4 SCREENWRITING SECRETS (This is a Must Read… #3 & #4 Are Super Great)
by Dov S-S Simens on March 1, 2016
PAGE-1: GRAB THE READER
They say about Hollywood, "Those whores only read 10 pages".
Hey, "Easy. Easy. I was one of those whores". 
Permit me to explain why: Everyone believes that a "Reader" (aka: Those Whores) can tell if your script stinks within 10 pages… is a bloody-bloody-lie…
Why?
Answer: I used to be a "Reader" and did "Coverage" (2-page Book/Script Evaluations) during my first 3 years in Hollywood, while chasing-the-deal, and have read over 2,000 scripts (paid $25-$25 in 1981-1984) and the phrase that "You can tell if a script stinks by reading 10 pages" is bullsh*t for you, if an accomplished "Reader", can tell if a script stinks by only READING 1-PAGE.
I didn't need 10-Pages.
I could tell if your script sucks by Page-1.
Got it "ONE-PAGE"!
You gotta "Grab-da-Reader" (a whore like me), almost instantly, on Page-1.
Cut this crap with spending 7-10 pages establishing characters, settings and atmospheres.
And, yes, most readers toss your script after 1-page… So you better make your first page unbelievably great.
In 1980, when I first came to Hollywood, after 4 almost useless, night-school, UCLA Extension courses on Screenwriting, Financing, Deal-making & Line Producing, I became very tight for money.
I had a small studio apartment in the Farmers Market/Fairfax district of Los Angeles and looked for any part-time movie related job(s), besides being a PA (production assistant), to handle rent of $495/month.
The best job I found was as an "Independent Reader" for small production companies, who could not afford to hire a day-in day-out on-staff reader (aka: Development Exec), a Masters Degree in Literature graduate from Harvard, Yale or Oxford, paid $100,000-$200,000/year, to read scripts and do what is called "Coverage".
WHAT IS SCRIPT COVERAGE & WHAT DOES INDEPENDENT COVERAGE COST?
Getting "Coverage" is the phrase used when a script is submitted to a production company, but the owner, who has other things to do, has an assistant (titled "Development Executive") read and condense it into a 2-page synopsis (aka: analysis) with the first page being the synopsis, a 1-page condensing, of the story and a 1-page opinion on (A) story, (B) characters, (C) plot, (D) dialogue & (E) marketability.
From 1981-1985 I covered (aka: read) 2-3 scripts per nite and 4-5 per weekend.
Pay was…
$25 for less than 90-pages.
$30 for 90-120 pages.
$35 for more than 120-pages.
$40 for books less than 250 pages & $45 for books more than 250 pages.
Phew. Lot of reading. Not much money. Lot of typing… and after 4 years kicking in an attitude of I really don't want to see another script… but I gotta pay rent and my car is starting to over heat.
Bottom-line; over 4 years I read and covered 700-1,000 scripts/year and made just enough money to pay rent, keep my car full of gas and every now-and-then go to a movie.
This pencils-out to reading and being asked for opinions on 2,000-3,000 scripts over 4 years.
4 GREAT SCREENWRITER TRICKS
Here is what I learned….which is important because when you want to get your script to the big name actor, director or producer you have to get not a good coverage report from a person like me, but a GREAT COVERAGE REPORT, before he/she (the owner, the celebrity actor) will read it.
FIRST: Type it (aka: format) properly. If you don't have the proper format (likely Final Draft software or an app or celtx.com) it is "binned" instantly.
SECOND: Don't design exotic covers, with expensive graphics & condensed posters, that you think you're going to grab a reader into thinking "Wow". KISS (Keep It Simple Stupid). Simple two-hole punch cardboard with the Title centered.
THIRD: "GRAB-THE-READER"… within 6 lines of Page-1
FOURTH: "GRAB-THE-READER"… again… on the very last line of Page-1.
CUT-TO-THE-CHASE: GRAB THE READER
You've spent a year-or-two writing your script. You are sure it's great.
You are already practicing your Oscar acceptance speech.
But, you must first have your script read by someone like me, an A-Hole, still naïve, still a little arrogant and thinking he/she's really a producer, but (alas poor Yurick) he/she is temporarily out of money, and to pay rent is reading scripts at $25-$45 a pop for lazy producers who I'm sure he/she believes he/she is better than.
Point is you are going to send your script to a person who (A) is not excited about reading another script, (B) is paid very little money and (C) really thinks he/she is a producer-in-training… and has a very negative attitude.
Thus, you better GRAB THE READER instantly.
Also, the average TV viewer, with a remote in his/her hand, and a universe of 100 channels to view has an attention span of only 15-seconds.
And if 1-Page of script, formatted (typed) properly is approximately 1-minute of running time…. And if there are about 24 lines/page….then 15-seconds in should be approximately Line 6.
You better make your LINE-6 of PAGE-1 a great line that hooks the reader…. Grab-the Reader.
Actually you need 2 GRABBERS!
As stated, grab him/her on page-1 of your script by LINE-6 (Grab #1).
I repeat: If an average page of screenwriting, in the correct format, has 20-24 lines…then you better grab the reader (aka: a Grabber) by LINE-6 on PAGE-1.
Then, on the bottom of page-1, the last line (Grab #2) you better have another Grabber that makes the reader (a bored negative person who is being paid $25 bucks) want to turn-the-page, get into a positive attitude and continue reading.
YOUR SCREENWRITING HOMEWORK
Now, go back and read your script that I'm sure you think is great.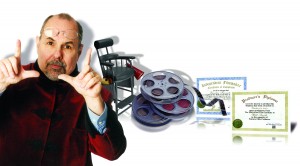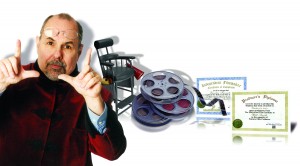 (I hope you enjoy any of my 3 affordable film school programs… Happy Filmmaking. They're all based on street-reality rather than film school theory)  
More than likely you have spent 7-15 pages trying to establish characters, settings, writing well crafted exposition filled with adjectives and adverbs.
Stop it. Stop it. What you have just accomplished is bored a Reader and he/she has just mentally thrown it away.
Cut-To-The-Chase… Grab-The-Reader.
Grab a "reader" on Page-1 by LINE-6 (Grab #1).
Then Grab the "reader" again on the LAST LINE of Page-1 (Grab #2)…
Now, you got us wanting to turn the page.
Now, we'll read 10-PAGES.
If the 10-pages are great; we'll read the entire script.
If the entire script is Great… Voilla!
Grab somebody like me, I was a Reader & I guarantee you I didn't want to read another script, from someone I don't know, who isn't famous, and I'm only being paid $25-$45.
Do your homework. Read your script. Did you Grab-The-Reader twice on Page-1?
If not do a small re-write of Page-1.
Happy Filmmaking,
COMMENT & SHARE:
And your favorite  1st Page is…. (It was the Best of Times… It was the Worst of Times…)
www.WebFilmSchool.com.
Real Facts. Real Knowledge. No-Bull.
Keep Up to date… Join our e-mail list.
http://webfilmschool.us10.list-manage.com/subscribe/post?u=313d0b336735c6d5fbf1a8e9d&id=2c55446523
 *** NO-BULL ***