38 STEPS OF FILMMAKING (Making-a-Movie Takes 38 Bank Checks…Can You Name Them?)
by Dov S-S Simens on June 20, 2016
38 STEPS OF FILMMAKING (Who Gets Paid What & What Things Cost)
38 Bank Checks Make-a-Movie. Can you name them?
When budgeting, whether for a Feature Film, TV Episode or Documentary there will be on average 38 Line Items in the Top Sheet (One Page Summarized Budget) of a budget proposal.
I call these 38 Line Items the "38 Steps of Filmmaking".
Can you instantly name the 38 Line Items, actually the 38 Deals or 38 Bank Checks that you are going to negotiate and write while making your Feature Film from beginning-to-end?
Can you?
One can talk all they want about Pre-Production, Production & Post-Production being the steps of filmmaking. Plus, one could add in Script Development, Packaging, Financing & Marketing to the steps of filmmaking.
However, the bottom-line is Business, and this is called "Show Business", and in "Show Business" when you make a feature film, from beginning-to-end, there are 38 Line Items in the Top Sheet of a budget which literally & figuratively become the "38 Steps of Filmmaking".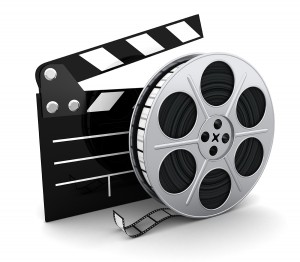 (There are 4 Guilds (WGA, DGA, SAG & PGA) for the Above-The-Line talent)
The first 4 Line Items (Producer, Writer, Director, Cast) are categorized as the "ABOVE-THE-LINE" costs.
The bottom 34 Line Items are categorized as "BELOW-THE-LINE" costs for the Shoot (Cameras, Crew, Equipment, Insurance, Locations, Food, etc) and for the Post-Production (Edit, Sound, ADR, Foley, M&E, Timing, Lab, etc.) to get to the final print, which today is likely a "DCP".
Simple question. Do you know what everything costs? And if you do not know then "how can you possibly prepare a budget"?
Thus, let me give you a beginners budgeting guideline to start you on the thinking process (itemizing) of "what filmmaking things cost".
Then I, with ensuing posts on $10,000 No-Budget Films, $30,000-$50,000 Micro-Budget Films, $70,000-$100,000 Ultra-Low-Budget Films, $200,000-$300,000 Low-Budget Films, etc., will be able to detail each of the Line Items for each project and have the information be relevant.
Lets proceed with the top 4 line items covering script-to-cast.
ABOVE-THE-LINE (Line Items 1-4)
(1) PRODUCER (Includes office, production coordinator, staff, copying, etc.)
(2) WRITER (Includes Property, Option, Treatment, 1st Draft & Final Draft, Typing, Coverage, etc. Also, if union shoot include WGA costs)
(3) DIRECTOR (Includes "Anything he/she wants to put in if he/she is bankable. Also, if union shoot include all the extras the DGA demands)
(4) CAST (Includes Star(s), 1-Day Performers, Extras, Atmosphere, Backdrop, Paperwork, Payroll, etc. Also, if union shoot include all the extras like travel allowance, meal allowance, overtime, etc. as SAG demands)
BELOW-THE-LINE (Line Items 5-25)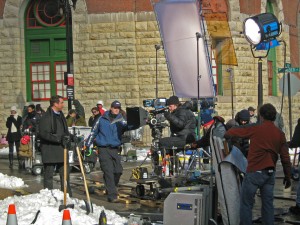 (Below-The-Line think Crew, Equipment, Vendors, Insurance in that order)
(4) CAMERA (Film, Electronic, 4K, Red… Monitors…)
(5) LIGHTS (Truck, Key, Back, Fill… Generator, Cables…)
(6) GRIP (Truck, Stands, Dolly, Tracks, Tools…)
(7) SOUND (Recorder, Mixer, Mikes, Boom, Pole, Assistant…)
(8) EXPENDABLES (Filters, Gels, Gaffing Tape…)
(9) PERMITS (Cops, Fireman, Licenses, Fess…)
(10) INSURANCE (Liability, Equipment, E&O, Workers Comp…)
(11) CINEMATOGRAPHER (1-2 weeks Prep, 2-3 weeks Shoot, Post…)
(12) PRODUCTION MANAGER (3 weeks Prep, 2-3 weeks Shoot, 2-Days Wrap…)
(13) PRODUCTION DESIGNER (4-weeks Prep, 2-3 weeks Shoot, 1-week Wrap…)
(14) CREW (Camera Operator, Assistant Directors, Script Supervisor, Craft Service…)
(15) SETS (Rentals, Purchases, Paint, Crew…)
(16) STAGES (Rentals, Insurance, Lights, Construction, Crew…)
(17) LOCATIONS (Rentals, Insurance, Parking, Utility, Bonds…)
(18-25) "SHOT-IN-THE-CAN" (further costs from Food to Props to Wardrobe incurred to get your film shot)
POST-PRODUCTION (Line Items 26-34)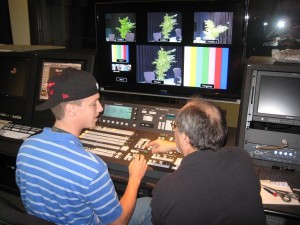 (For Post think Picture, Sound, Music, ADR, Foley, Mix in that order)
(26) PICTURE EDIT (Editor, Assistant, Edit Bay, Food…)
(27) SOUND EDIT (Editor, Assistant, Effects, Edit Bay, Food…)
(28) ADR (Automatic Dialogue Replacement, Lip Syncing, Looping…)
(29) FOLEY (Footsteps, Paper Noise, Clothes Rustling…)
(30) MUSIC, SCORE (Pre-Recorded, Licensed, Original…)
(31) RE-RECORDING (Mix, 30-50 tracks down to 3 tracks)
(32) M&E TRACK (Music & Effects but no Voice…)
(33) LABORATORY (Color Correcting, Timing)
(34) LABORATORY (Digitizing, Output, Prints, Coding…DCP & Negative)
PROFFESSIONAL FEES (Line Items 35-38)
(35) LEGAL (License, Company Papers, Contracts, Agreements…)
(36) ACCOUNTING (Payroll, Bookkeeping, Taxes…)
(37) MISCELLANEOUS (Who the heck knows what they are… that's why they're called "miscellaneous")
(38) CONTINGENCY, OVERAGES (Now, take the whole thing and add another 10%… You'll see)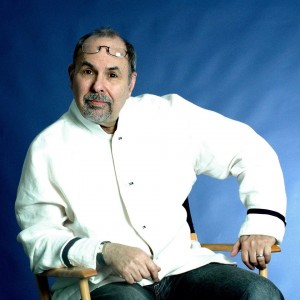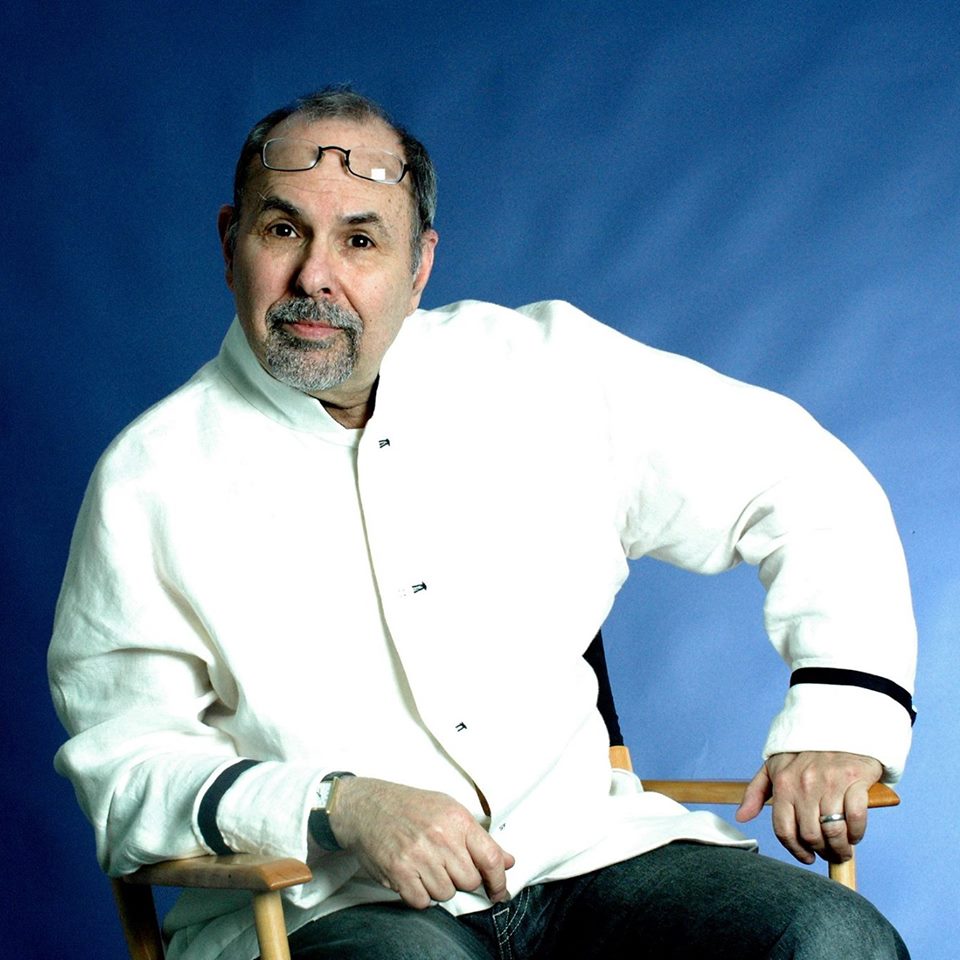 (Next "Hollywood 2-Day Film School" is Sep 17-18 & Dec 10-11. Can't Wait. DVD & Streaming Formats available at www.WebFilmSchool.com)
————————————————————-
Now… Homework but homework that is fun.
Question.
On a Hollywood mega-budget do you really know what the 34 "BELOW-THE-LINE" crew, equipment and vendors get paid.
Plus, on the four "ABOVE-THE-LINE" line items, after the 1-2 stars, director and possibly writer, do you know what 98% of the remaining 30-300 person Cast & Writers Staff truly get paid?
If not and you find yourself a bit curious then the below link from a Vanity Fair article is a great resource.
View this link
http://www.fastcodesign.com/3060755/infographic-of-the-day/honest-movie-credits-reveal-how-little-most-of-hollywood-makes
Credits Reveal How Little Most Crew & Cast of Hollywood Makes
http://www.fastcodesign.com/3060755/infographic-of-the-day/honest-movie-credits-reveal-how-little-most-of-hollywood-makes
Of course we've all heard this, that stars make way more money than everyone else. But Vanity Fair has effectively demonstrated it, leveraging Hollywood's own credits sequence to deliver the sting.
In the video above, Vanity Fair present the credits of a hypothetical $200 million movie, with each staffer's estimated salary listed next to his or her title. It's a gut-punching visualization, to see the production assistants who pocketed $14,000 just a stone's throw away from the actors who made literally 1,000 times that for a similar amount of work. And because it uses the language Hollywood has already ingrained in us—the credits themselves—there's no mental hurdle needed to decode some infographic-y graph or chart before the message sinks in.
Indeed, it's a superb, if unexpected, bit of data design, and after seeing it, we'll never watch credits the same way again.
Hope This Helped & Happy Filmmaking
Dov Simens
LEARN FILMMAKING (The Nuts-and-Bolts)… Why Wait?
Want to Produce, Write, Direct?  Want only facts… not theory. Then either of my film programs are perfect for you…
Plus, they are only $89-$289.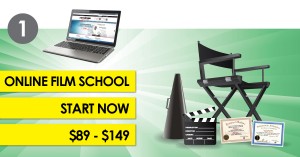 (3 Clicks. Launch your career)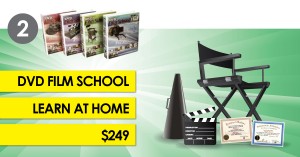 (View over and over)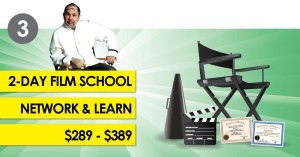 (Network, Learn, Enroll, Graduate)
Real Knowledge. No-Theory. No-Bull.
Keep Up to date… Join our e-mail list.
http://webfilmschool.us10.list-manage.com/subscribe/post?u=313d0b336735c6d5fbf1a8e9d&id=2c55446523
 *** NO-BULL ***