INDEPENDENT FILMMAKING: THE 7 MOVIE BUDGETS (Can You Name Them?)
by Dov S-S Simens on July 19, 2018
THE 7 MOVIE BUDGETS
Want to Produce, Write or Direct a Feature Film that actually gets made?
If "Yes" then you must realize, once having the screenplay, that when preparing a budget, what is realistic and what is unrealistic… that is…for you… as a first-timer.
By unrealistic I mean you can believe you are doing proper method by hiring a Production Manager (PM) or an Assistant Director (AD) to prepare a budget the "right way" or you, yourself, can purchase a budgeting software (Movie Magic, Easy Budget, Guerilla Budget, etc) program, fill in every line item, do it perfectly and as with a PM or AD come up with a budget between $1 Million and $20 Million…
This might appear to be correct but it is not be realistic.
Why?
Answer: Because you, a first-timer who is worried about this months rent or mortgage, are not going to procure $1-10 Million for your first feature film.
Ergo you did the budget unrealistically.
Now let's get realistic but to do so, let's first peruse (see below) the most common 7 Movie Budget categories for first-timers.
1st: NO-BUDGET Budget ($10,000-$40,000)
With this type of money your production is a 1-week or 4 weekend (4 months) shoot, with a 5-7 person Non-Union crew, shot in real time with 2 iPhones, a couple of apps, a separate sync Soundman, who has his own equipment and been on 4-5 shoots, and a $295 lens attachment for the iPhones.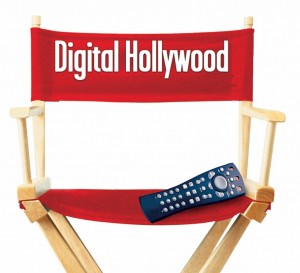 ("Tangerine" last year's Sundance hit was a No-Budget feature, shot for $20,000 with 2 iPhones, in real time, over one weekend.")
2nd: MINI-BUDGET Budget ($41,000-$80,000):
This is a 2-week shoot (13 shooting days), with a 90-page script within 1-location, and a shooting schedule of 7 pages per day, a 6-8 person Non-Union crew, shot with one Red or two DSLR 4Ks, and hiring SAG actors but without becoming a SAG Signator and paying them $100/day or $500/week
3rd: MICRO-BUDGET Budget ($81,000-$150,000):
For micro dollars you will also do a 2-week shoot, with an 8-11 person Non-Union crew but hiring, without signing with IATSE, a DP & Camera Crew for $5-7K/week and a highly qualified Soundman at $2K/week with possibly $10-$25K for a TV actor to do a 1-day cameo but promote "Starring Him/Her" and $5K for an original sound track.
4th: ULTRA-LOW-BUDGET Budget ($151,000-$250,000):
With a little more money than Micro-B, an Ultra-Low-B is also a 2-week shoot, but this time with a 13-16 person crew, 3-4 locations, signing with SAG on Ultra-Low Agreement (Actors @ $100/day), with 2 TV semi-name actors at $20K each and $10K for an original score, from a dialogue oriented script, that you wrote on Spec, of 95-105 pages with no stunts, animation, Exterior Night scenes or visual effects.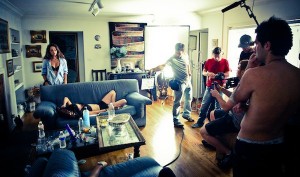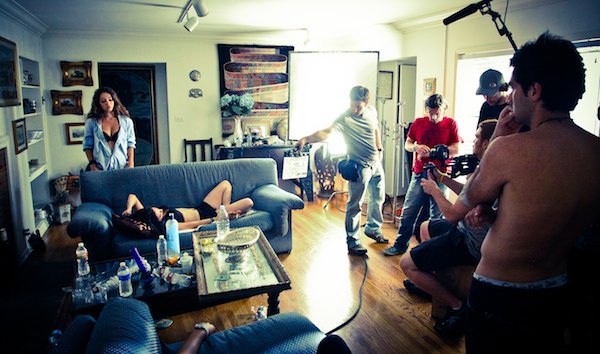 ("Most Ultra-Low-Budget films like "Blair Witch", "Cube", "Panic Room", "Saw", "Cabin Fever" or "Rope" which are shot many times at the producer or director's house, a friend's apartment or cabin or someone's basement or backyard.")
5th: LOW-BUDGET Budget ($251,000-$400,000):
Now we're talking the standard 18-Day, 3-week shoot, with a 16-20 person crew, 5-7 locations, with 3-5 pages shot EXT-NIGHT, Above-The-Line signing with SAG but not WGA or DGA and Below-The-Line Non-Union, not signing with IATSE, however hiring your 5-7 keys who are in IATSE and paying each $1,000-$2,500/week, with a solid food budget and excellent craft service, starring 2 semi TV names (run of the picture) and $75,000 for Post-Production and $15,000 for Film Festival attendance.
6th: INDY LOW-BUDGET Budget ($401,000-$500,000):
This Film will be marketed as a "Million Dollar Feature", but is in reality a 3-week shoot, similar to the above Low-Budget budget, with an additional $100,000 to hire, besides the 2 semi TV name actors a Movie Name (A- or B+) actor ($100,000 at 3 Days), whose name makes it feel like a movie, who is taking the gig because he/she lives close to your locations, possibly knows you and likes being paid $100,000 for 3 days. Above-The-Line a SAG shoot and now enough money to sign with the WGA (Writers Guild) and hire a pro at $25,000-$40,000 for 2 drafts of your Treatment. Below-The-Line a 20-25 person Non-Union crew; with a 10-week Post Period (Pix Edit, Sound Edit, ADR, Foley, Music, Mix, M&E, Digitize & DCP) and $25,000 to hire a Publicist for a festival bang.
7th: CLASSIC LOW-BUDGET Budget ($501,000-$700,000):
You'll quickly learn that Hollywood lies and inflates their alleged budgets when marketing. Play the game! This Film will be marketed as a "$2-3 Million" or a "$3-5 Million" Feature. It is usually produced by a name tv actor, who is the director, with a couple of his/her name actor friends at $25K per week also cast. Above-The-Line it is a 2 Guild (SAG & WGA) shoot, with a possibility, since the name actor is directing, of signing with the Directors Guild to ensure the actor becomes a DGA member. The shoot is 5-weeks (25-28 days) allowing the actors 3 takes for each setup, demonstrating better acting skills, with the movie now appearing to be a very well acted film and qualifying for Sundance, Toronto or Tribecca.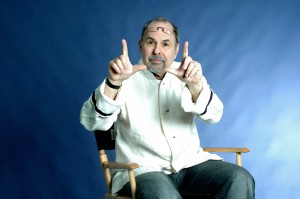 ("Hi, I'm Dov Simens, I've taught filmmaking for over 25 years in 34 nations and I love dispensing the mystery and mystique of Hollywood with my very practical way cut-to-the-chase method of teaching.")
MOVIE BUDGETING METHOD:
Now let's get realistic and prepare a realistic move budget for your very first feature film.
If you think low-budget is $2-4 Million then I advise make a $100,000-$200,000 movie.
If you think low-budget is $500,000 then I advise make a $25,000 movie.
Permit me to explain.
First-time filmmakers (aka: wannabees), like you, are a bit naive and hear things like "the average Hollywood Studio Low-Budget is $10-20 Million" then naturally think saying their budget is only "1-2 Million" will have studios going "why not".
Problem is that $1-2 Million is still a lot of money.
Now, being mature and honest, rather than naive and romantic, here is how to approach your first feature film budget.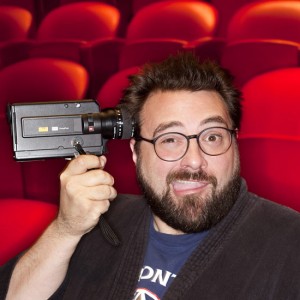 ("Kevin Smith's "CLERKS" was likely conceived as a Half-Million Dollar Feature. But Kevin got smart. Cut the budget in Half. Moved the decimal point to the left one spot, found $25,000 and shot… Rest is history")
STEP ONE: Pick the dollar amount that you naively think is low-budget. Let's say "2-3 Million"
STEP TWO: Drop that budget in half. Now you're think "1-2 Million".
STEP THREE: Move the decimal place one place to the left. Now you're realistic and the "$1-2 Million" becomes $100,000-$200,000 and produce (see above) either a Micro-Budget or Ultra-Low-Budget Feature Film.
Another example: What if you started by saying "all you need is $500,000". Then…
STEP ONE: You think Low-Budget is "$500,000″.
STEP TWO: Drop that budget in half. Now you're thinking "$250,000".
STEP THREE: Move the decimal place one place to the left and you're realistic budget is $25,000 and produce (see above) a No-Budget Feature Film.
You got it…
Now, with respect to yourself….be realistic. Get your 90-page one-location script. Think what you believe to be low-budget; reduce that budget amount by 50% and move the decimal point one place to the left… Get the money and shoot.
Happy Filmmaking,
Dov Simens /
XXXXXX
20-HOUR (LIVE, DVD or VOD) FILM SCHOOL 
Want facts. Not theory… Then my Film Schools ($89-389) are perfect for you.
Pick One. Graduate. Write. Produce. Direct.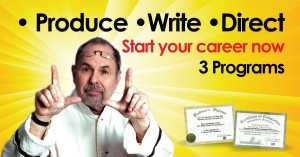 Next "HOLLYWOOD (2-Day) FILM SCHOOL" sessions are August 18-19, 2018 and December 8-9, 2018.