MOVIE GUILDS & UNION SECRETS (LOW-BUDGET WAVERS)
by Dov S-S Simens on August 21, 2015
HOLLYWOOD UNIONS: The WGA, DGA, SAG & IATSE 
(Movie Union Secrets, Misbeliefs & Tricks)
Independent Filmmakers (like you) and Independent Film Companies (like yours) do not have to hire union Actors, Writers & Directors (there is no law in America that states you must) for you have not become a "signator" of each of the guilds and union basic agreements that they movie studios and television networks have contractually agreed to.
However, if you are being financed directly by a Hollywood Studio, that has signed with the 4 Guilds (aka: creative word for "union"), then you must be a union shoot and must hire Writers, Actors & Directors that are union members.
Oops: That is unless the Studio is playing a game they call "Negative-Pickup Deals", which is their sneaky way of circumventing the Guilds.
NEGATIVE PICKUP DEAL: Means that the studio (Warners, Paramount, Disney, Sony, etc.) isn't financing you to make a movie for them to distribute; rather they are simply stating that they will (A) Not Finance you but rather (B) Buy your movie (price to be negotiated) when it is done.
For if they ( a movie studio or TV network) directly financed you, and they have signed with the Unions, then you will have to be a "Signator", another phrase for you have a contractual agreement (you are a "signator", you "signed") with the Guilds & Unions, and more than likely, this will be an expensive film.
However, if the studio(s) want to buy your film, and they know that it is low-budget and if you're forced to be a "signator" then you can't afford to make it, for what the studio is willing to purchase it for, then they ARE NOT FINANCING YOU they are simply making a deal to BUY IT and the price is already set.
Then, once you are done…they will "Pick-Up Your Negative" (aka: Negative Pickup Deal, yes-yes, today it's not called a negative) and you do not have to be a Guild & Union shoot.
Then you can take this "Negative Pickup" studio deal to a commercial bank, with a completion bond, and secure an 18-month Production Loan (aka: Monetize a Contract)…Interesting?
Why don't you "Google" or "Bing" NEGATIVE PICKUP DEALS…
WHAT IS A HOLLYWOOD UNION? and HOW MANY MOVIE GUILDS ARE THERE?
So let's chat "Guilds & Unions" and "Low-Budget":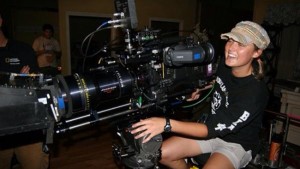 In Hollywood ABOVE-THE-LINE there are 3 guilds…
The Writers banded together to form their guild.
The Directors banded together to form their guild.
The Actors banded together to form their Guild.
It appears that ABOVE-THE-LINE people don't like being part of a Union for that sounds like something that truck drivers and janitors belong to… However, BELOW-THE-LINE, crew, who are just people looking for gigs be they a Cinematographer, a Grip, a Gaffer, a Soundman, a Production Designer, etc. they are comfortable saying they are a member of a Union.
Anyway; ABOVE-THE LINE there are 3 GUILDS and BELOW-THE-LINE there is 1 Union…for a total of 4 organizations, that in reality are not there to help you…THE PRODUCER!
First off, I want you to understand the phrase "LOW-BUDGET".
What number (dollar amount) do you call Low-Budget; what do Studios call Low-Budget; what do Banks call Low-Budget; and what about the 3 Guilds & 1 Union "what do they call Low-Budget?"
DOV SIMENS / DEAN / HOLLYWOOD FILM INSTITUTE
WHAT IS LOW-BUDGET?
Why don't you find out for yourself by going directly to the 3 Guilds & 1 Union; get frustrated; not get the proper information; then I will tell you the "Bottom-Line"…and always remember, "This is America, you can hire who you want, when you want and the only wage rules are (A) Minimum wage and (B) Workers Compensation"… So be very wary about Actors, Writers, Directors or Guilds & Unions telling you what you have to do with your own money."
(Secret: Look below. "Brothers McMullen", "Clerks" and "Paranormal Activity" were all non-union. QUESTION: Did the Producers or Directors or Actors of these movies get into trouble? Gotcha thinkin')
Anyway, back to "who are the Guilds & Unions"?
WGA, SAG, DGA and IATSE.
(FIRST) ABOVE-THE-LINE (3 Guilds)
1. SCREEN ACTORS GUILD (aka: SAG): www. SAG .org
2. DIRECTORS GUILD (aka: DGA): www. DGA .org
3. WRITERS GUILD (aka: WGA): www. WGA .org
(SECOND) BELOW-THE-LINE (1 Union)
4. INTERNATIONAL ALLIANCE of THEATRICAL STAGE EMPLOYEES…. (aka: IATSE): www. IATSE-intl .org)
Now, go to each of these 4 websites and look for "LOW-BUDGET" Agreements and discover the Rules, Regulations, Costs & Fees.
Then you will be able to make a decision if you desire your first feature film to be a Guild & Union Shoot, or hire Guild & Union people but not sign with the Guilds & Union, or be entirely independent and only hire non-guild and non-union.
It's your call.
Always remember….. This is America and you can hire whoever you want to hire, whenever you desire to hire him/her, with the only rules (aka: laws) for employment being (A) Minimum Wage and (B) Workers Compensation.
HOLLYWOOD'S SECRET FILM SCHOOL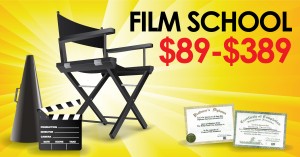 Hello,
I'm Dov Simens and enjoy my 3 affordable Film Programs (Live, DVD or On-Demand)…
…www.WebFilmSchool.com
Happy Filmmaking,
Keep Up to date… Join our e-mail list.
http://webfilmschool.us10.list-manage.com/subscribe/post?u=313d0b336735c6d5fbf1a8e9d&id=2c55446523
 *** NO-BULL