OSCAR AWARD SECRET (Make-a-Short. Get it Oscar Qualified… Shhh)
by Dov S-S Simens on February 15, 2016
NYU & USC FILM SCHOOL ADVICE 
"As a Filmmaker…start small"  "Make a Short…Enter Film Festivals"…  "Get an Agent…Make Deals"
On the surface this sounds correct. However, it is H-O-R-R-I-B-L-E advice.
Again, Film Shorts… You were told to start small… start with a short… learn the film craft… Practice and develop your directing talent… Be discovered…  Get an Agent and a 3 picture deal…
Sounds like the correct advice to be given. And all those super expensive ($200,000 – $300,000) film schools, upon taking your money, tell you to do this.
However, its is rotten advice for first-time Producers, Directors, Screenwriters, or even Actors, especially if you are an adult, who want to be profitable Filmmakers with projects that movie studios finance.
Now here is my opinion.
Don't. Don't. Don't make a short.
Especially if you're an adult…"Please, Please, Please DO NOT MAKE A SHORT".
Why?
Simple answer… "No one buys shorts."
So as an adult, demonstrating your business skills by making a short is s-t-u-p-i-d… for you have just spent all your money making something that you CAN NOT SELL.
And the only thing you have demonstrated is that you know how to go broke… Now, I ask you "Does that sound intelligent"
Before you start giving me an example or two, of the 3,000,000 shorts made in the last 3 years please take a moment. Think about it. Now give me 5 examples of the 3,000,000 shorts that have sold…. just 5 examples of shorts that were made-and-sold.
Got you thinking. Good, that is the job of a teacher.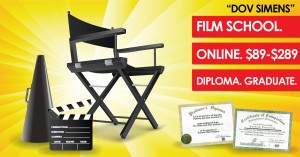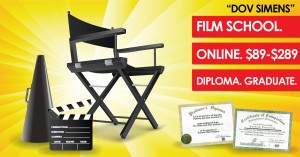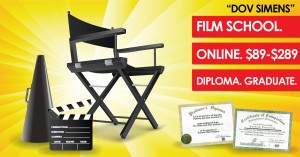 (My affordable Film Programs, for adults, not for children, teach how to make movies, aka: feature films, that you can sell… And the secret is it is easier to make a 90-minute movie than a 10-minute short… discover why & how.) 
But, no matter how much I beseech you to not make a short you probably won't adhere (it's hard to buck the alleged wisdom of the politically correct education system and you are obsessed with making a short… or have already made one.
Then if this is true and you want to make money with your short, or launch your film career, then since you won't get any money then you must get true recognition… and true recognition is to win an Oscar for "Best Short"….
…Or at least get an "Oscar Qualifying Nomination"…. and promote that "You are an Oscar Qualified Filmmaker"
OSCAR NOMINATION SECRET
To get your short qualified for Oscar Nomination (check, www.Oscars.org, for details) you must first get it into one of the Film Festivals, along with a stipulation that you must be a "Student" (I'm not sure of how they qualify or quantify the word student… but no matter what you age… you are a student) that the AMPAA (Academy of Motion Pictures Arts & Sciences) certifies.
Now, here's your To-do list & List of Oscar Qualifying Film Festivals…. "for shorts":
Google
Get Dates & Submission Details
Figure out the word "Student"
Submit. Submit. Submit.
Hire a Publicist
Turn it over to God
OSCAR FILM FESTIVALS: QUALIFY LIST
AFI Fest (USA)
ACADEMIA DE LAS ARTES & CIENCIAS (Spain)
ACADEMIA DES ARTS ET DU CINEMA (France)
ACADEMY CANADIAN CINEMA & TV (Canada)
ACADEMY MOTION PICTURE ARTS & SCIENCES (USA)
ANN ARBOR FILM FESTIVAL (USA)
ASPEN SHORT FEST (USA)
ATHENS INTL FEST (GREECE)
ATLANTA FILM FEST (USA)
AUSTIN FILM FEST (USA)
BERLIN INTL FILM FEST (GERMANY)
BERMUDA INTL FILM FEST (Carribean)
BILBAO DOCUMENTARY FILM FEST (Spain)
CANNES FESTIVAL (France)
CARTAGENA FILM FEST (Colombia)
CHICAGO CHILDRENS FEST (USA)
CHICAGO INTL FESTIVAL (USA)
CINEMA INTL ANIMATION (Portugal)
CINEQUEST FEST (USA)
CLEVELAND INTL FEST (USA)
ENCOUNTERS FILM FEST (England)
FESTIVAL CINE DE BUESCA (Spain)
FLORIDA FILM FEST (USA)
FOYLE FILM FEST (Ireland)
HAMPTONS INTL FEST (USA)
HIROSHIMA FILM FEST (Japan)
KRAKOW FILM FEST (Poland)
LOCARNO FILM FEST (Switzerland)
LA INTERNATINAL FILM FEST (USA)
MELBOURNE FILM FEST (Australia)
MONTREAL FILM FEST (Canada)
MORELIA FILM FEST (Mexico)
NASSHVILLE FILM FEST (USA)
NY INTL CHILDRENS FEST (USA)
NORDISK 5 FILM FEST (Scandinavia)
ORERHAUSEN FILM FEST (Germany)
OTTAWA FILM FEST (Canada)
PALM SPRING FEST (USA)
RAINDANCE FILM FEST (London)
RIO DE JANEIRO FEST (Brazil)
SANTA BARBARA FILM FEST (USA)
SEATTLE INTL FILM FEST (USA)
SHORTSHORTS (USA)
SIGGRAPH (USA)
SLAMDANCE FILM FEST (USA)
SOUTH BY SOUTHWEST (USA)
STUTGART FILM FEST (Germany)
SYDNEY FILM FEST (Australia)
TAMPERE SHORT FEST (Finland)
UPSALA FILM FEST (Sweden)
VENICE FILM FEST (Italy)
ZAGREB FILM FEST (Croatia)
Now, let's get into a couple of these Festivals. Remember, "They are not Free".
There's Flight, Hotel, Per Diem, Posters, Ads, Publicity….
Win a couple of awards. Have a fun time but make sure your short qualifies for Oscar Nomination.
Now, have it nominated.
Now, get it selected by the MPAA.
Now, go to LA…. Now, W-I-N.
Now, you will get an agent… and welcome to Hollywood and what the pros call "Development Hell"
Does this sound easy…. Here's another option… Just MAKE A FEATURE, 90-page script, 1-location, a stage-play… Please attend my "2-DAY FILM SCHOOL"…
Why Wait?
Happy Filmmaking,
COMMENT & SHARE:
Please share if your short qualified for Oscar Nomination.
www.WebFilmSchool.com.
Real Facts. Real Knowledge. No-Bull.
Keep Up to date… Join our e-mail list.
http://webfilmschool.us10.list-manage.com/subscribe/post?u=313d0b336735c6d5fbf1a8e9d&id=2c55446523
 *** NO-BULL ***