SUNDANCE SALES & TRENDS (2 Biggest Buyers are…)
by Dov S-S Simens on February 4, 2016
SUNDANCE 2016: STREAMS, SALES & DEALS
For 3 decades filmmakers have trekked to Park City, schlepping their 35mm 8,100′ vision in hopes of a securing a single screening while preying for an ensuing humongous Theatrical Deal with tons of press, accolades and praise.
Sundance commenced in 1985 and premiered with "The Falcon & The Snowman", Sayles's "Brother From Another Planet" & Jaffe's "Killing Fields" with maybe 1,000 entrees. By '89 it had grown to 3,000 submissions, with Redford's name garnering global attention and films like "Apartment Zero", "Heathers", "Powwow Highway", Savoca's "True Love" and Soderberg's "sex, lies and videotape" being premiered and discovered.
As the years went filmmakers like Errol Morris, Tom DiCillo, Greg Araki, Coen Brothers and Kevin Smith were discovered as Sundance expanded to 100 screenings/premieres and spotlighting digital cinema, then documentaries and growing out of theatrical only and high-lighting On-Demand & Streaming companies and deals.
This past year's Sundance had over 10,000 films were submitted with only 103 accepted.
I repeat over 10,000 films submitted with only 103 accepted.
Do the math.
Of the 103 films accepted probably 30-40 came from companies like HBO, Showtime, Weinsteins, Summit, etc., who are just using Sundance, with a check likely for $50,000-$100,000, as a marketing platform, plus maybe 30-40 films (1 each) from nations like Cuba, Kazakhstan, Macau, Kenya, Bulgaria, Sweden, China, Uruquay, etc (its a global film festival… isn't it), with counting another 15-20 documentaries, leaves only 10-15 spots for a true "No-Budget", "Low-Budget" independent 90-minute narrative like yours.
10,000 Film submitted… 10-15 spots.
The odds are not good.
My apologies for straight-talk and I hope you don't think I'm being negative for the shear desire… I am solely trying to assist you in being realistic about your films plans and film career.
Thus, with these odds I beg & beseech you never take a loan, or re-fi your house, in order to finance your dream.
But please-please make your dream. Maybe this includes dropping the budget to true "No-Budget" or "Micro-Budget" numbers, make the film and submit to Sundance… just be mature about the odds.
Now let's talk Sundance Trends.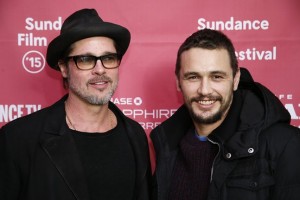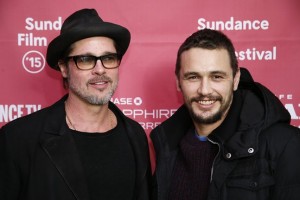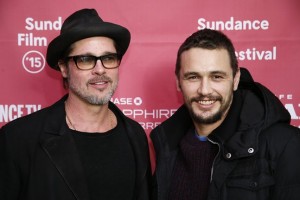 (Brad & Franco selling or promoting their films at Sundance… They can do it. They are Brad & Franco… Be careful about comparing yourself to what they do.)
SUNDANCE 2016 TRENDS
For more than 3 decades, filmmakers have arrived at the Sundance Film Festival (paraphrasing Hollywood Reporter) with dreams of landing a seven-or-eight figure deal with a strong theatrical distributor that can turn a passion project into mainstream entertainment.
And, at this past Sundance there was a $17.5 Million sale of Nate Parker's "The Birth of a Nation" (financed for $10 Million from NBA basketball players like Tony Parker & Michael Finley) to Searchlight , even after Netflix offered $20 Million but wanted global rights, all revenues, rather than merely North American rights.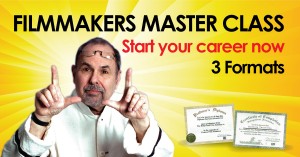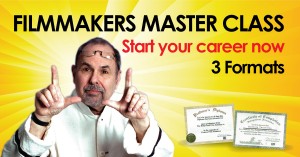 (My 3 extremely affordable Film Programs will show you not just how to get into Sundance, Toronto or Cannes but (A) what it costs, (B) how to submit and, most important, (C) how to negotiate deals at the festival… www.WebFilmSchool.com)
Those whose movies don't go over as well settle for a Direct-To-DVD, VOD, or more recently, Streaming service pact.
The new trend is simply the presence of internet buyers, with mega-bankrolls, like Netflix & Amazon, who know how to maximize the On-Demand, Streaming, OTT (Over-The-Top), EST (Electronic Sell Through) Revenues created with Day-and-Date releases.
NOW: THE NEW SUNDANCE BUYERS
Other than the Searchlight purchase/deal for "Birth of a Nation" the next 10 sales all went to either (A) NETFLIX or (B) AMAZON and included….
New Buyer "Netflix" acquired Paul Rudd's "The Fundamentals of Caring" for $7,000,000.
Netflix also acquired Ellen Page's drama "Tallulah" for $5,000,000.
*****NETFLIX, Contact Info: (Address: 100 Winchester Circle, Los Gatos, CA, 95032) (Attn: Ted Sarandos; 408-540-3700, TSarandos@Netflix.com)
New Buyer "Amazon" picked up a Casey Affleck starrer  "Manchester By the Sea" for $10,000,000.
*****AMAZON, Contact Info: (Address, 1620 20th Street, Santa Monica, CA 90404) (Attn: Roy Price, RoyPrice@Amazon.com)
Old Buyer "Lionsgate" (theatrical) picked up James Schamus "Indignation" for $2, 500,000
Old Buyer "Sony Pictures Classics" (theatrical) picked up "Equity" for $3,500,000.
Old Buyer, who is actually a New Company, "A24" (theatrical), acquired "Morris From America" for $1,000,000
Quite simply the New Trend is that there are 2 new buyers, AMAZON STUDIOS (Attn: Roy Price) and NETFLIX (Attn: Ted Sarandos), who have more money for their world of maximizing revenues than all the theatrical buyers (Lionsgate, Summit, Sony Classics, etc.) have combined… and they are just going to get bigger-and-bigger-and-bigger.
Think Netflix.
Think Amazon.
Happy filmmaking
COMMENT & SHARE:
Please share if you have pitched a cable series…
www.WebFilmSchool.com.
Real Facts. Real Knowledge. No-Bull.
Keep Up to date… Join our e-mail list.
http://webfilmschool.us10.list-manage.com/subscribe/post?u=313d0b336735c6d5fbf1a8e9d&id=2c55446523
 *** NO-BULL ***