DIRECT YOUR 1st MOVIE (Learn the Basics. BONUS: 11 Superb Directing How-To Articles)
by Dov S-S Simens on November 19, 2018
MOVIE DIRECTING: THE BASICS
You want to be a director…I know you do.
Your film ideas are great but the closed-shop, called Hollywood, won't allow you to do it… so you go "screw it", drop your movie's budget, cutout the Miscellaneous, Contingency, Permits, Insurance, Legal and any other line items that don't go on-the-screen and re-write your script for the do-it-yourself independent world.
You've done the first-step. You have the great script.
It's written in the proper format…You used Final Draft 11.0.
You protected it by registering with the WGA ($25) and copyrighting ($65) with Library of Congress.
You've gotten a couple of option offers from Hollywood but you go "Scr*w Hollywood" for you're sure, if you direct, this will launch your career, as "CLERKS" did for Kevin Smith as "SHE'S GOTTA HAVE IT" did for Spike Lee or "El Mariachi" did for Robert Rodriquez and refuse to sell.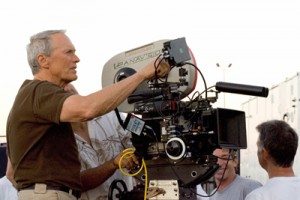 ("Clint knows speed and efficiency. He first gets a Master, then goes in for 2 Mediums and never allows more than 2 takes.")
You've decided to become a guerilla filmmaker.
But damn you still need some basic nuts-and-bolts and those sweet talkin' Hollywood directors won't tell any solid No-Budget or Micro-Budget directing secrets while dispensing vagaries like "You have to involve the viewer", "Allow the actors the freedom to act", "Make sure to think visual", "You need passion", "Important to have an excellent supporting crew", "Hire the best", "Stay true to the story"…. "Yadda-Yadda-Yadda."
You listen to these alleged experts thirsting for a pearl of wisdom or two but keep receiving rah-rah bubblegum pablum about heart, passion, emotion, visual, blah-blah-blah when all you want are some simple, cut-to-the-chase directing nuts-and-bolts on (1) Directing the Budget, (2) Directing the Script, (3) Directing the Cast, (4) Directing the Scene, (5) Directing the Camera, (6) Directing the Shots and (7) Directing Post-Production.
Why? Because I was where you are when I first came to Hollywood in 1982 with a plethora of great ideas, a couple of book options, and two poorly (didn't know that at the time) written screenplays and was stumbling from networking to networking event, looking for a mentor, just wanting some basic mechanics on how to start my directing career.
Yes I had hunger… I had the script and all I needed were some simple nuts-and-bolts.
I took night classes at UCLA Extension and USC Adult Ed from the pros, at $495-$695 each, who in their heart believed they were giving back, but weren't excellent instructors and perpetuated romance with cute casting stories.
"You want to Direct", I know you do. So permit me to save you 3-4 years bouncing around Hollywood, Santa Monica & Malibu, while driving Uber, with a script under your seat (never know who you'll pick up) or being a Barista at Westwood's San Vicente Blvd, in hopes that a famous director-producer (Spielberg & Hanks get their Cappuccino's there) stumble into you and dispense the 3-4 pearls of wisdom that unlocks Hollywood's directing doors.
Let me cut-to-the-chase with some simple nuts-and-bolts that makes you go "Oh I think I got it" for directing…
THE DIRECTING NUTS-AND-BOLTS!
Directing the Script (2) and the Actors (3) has no real nuts-and-bolts. It is a craft that can't be taught but must be developed with trial and error.
However, Directing the Budget (1), Directing the Scene (4), Directing the Camera (5) Directing the Shots (6) and (7) Directing the Edit are simple to comprehend and are the basics upon which you can develop your craft of directing the script and directing the actors… while forging a directing career.
Permit me the time to give you the basics of Directing 1, 4, 5 & 6, with Directing the Edit (7) I will do in a future blog.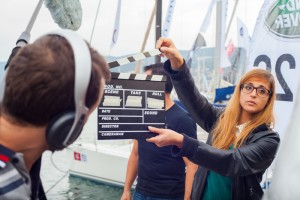 ("Directing is simple. Get coverage…1 Master, 2 Mediums, 4 Closeups, 6 Cutaways & 1 Establishing Shot…. Now do it uniquely different.")
DIRECTING: BREAKING-IT-DOWN
Your first feature, will be low-budget (actually No-B or Micro-B), based off of a 90-page, 1-location script, with only enough money to execute, at the most, a 3-Week Shoot.
A 3-Week Shoot is 18 Shooting Days.
18 Shooting Days with a 90-Page Script is a Shooting Schedule of 5 Pages/Day.
Each day has 12 hours of daylight, minus 1-hour for morning's first setup and 1 hour for lunch, leaves you with 10 hours.
With 10 Hours you must Direct 5 Pages or get 1 Page (1-minute of running time) of Script covered (aka: shot) every 2 hours.
Each Page, sometimes called a Scene, is comprised of 5-6 shots or setups… Master, Medium, Closeup, Cutaway & Establishing.
With 5-6 shots comprising a 1 page scene with a Shooting Schedule of 5 Pages/Day has you directing 25-30 shots (aka: setups) every 10 hours.
10 Hours of daylight is 600 minutes.
With 600 minutes for 25-30 shots leaves you only 20-24 minutes to get a shot. Move the camera. Set the actors mark. Rehearse. Block. Light. Say "Action". Wait. Say "Cut"… Point. Period. End Sentence.
Get it. No more theory. No more Romance. No more Passion. You have a budget, a time schedule, that makes you get 1-shot in-the-can every 20-24 minutes.
Got it?
Now let's talk Shot Selection.
DIRECTING: SHOT SELECTION
When actually directing make your mind think in this order.
Master shot 1st, Medium shots 2nd, Closeup shots 3rd & don't leave without an Establishing Shot.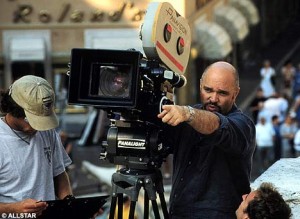 ("Master Shots use a 15-30mm lens; Medium Shots use a 30-50mm lens; Closeups use 50-75mm or 70-100mm Lens.")
Thus, commence each scene with a Master Shot (15-30mm Lens).
After you get a good Master (no more than two takes like Eastwood) get the two Over-The-Shoulder (aka: OTS) Medium Shots (30-50mm lens) that are Reverse Angled.
After you have a good Master and 2 OTS Mediums, approx 50-60 minutes of the 120-minutes allocated is used, for the remaining 60-70 minutes go for the Closeups.
When thinking Closeups (50-75mm Lens) first get your 6 close-ups (aka: Reaction Shots, Cutaways) of backdrop actors, for 3-5 seconds each, reacting to the primary actors acting.
Now go in for the Closeups (50-75mm Lens) of the primary actors acting for the entire 60-second (1-page) scene.
This is basic coverage but do not leave the area without getting a 10-20 second Establishing Shot (Valley, Town, Street, Building, etc.) of the entire scene's vicinity.
Again, make your mind think in this order, "Directing ain't Rocket Science".
First get the Master… then Mediums… then Closeups… then the Establishing Shot…
Voilla! Basic Coverage… Now do it uniquely different (aka: talent).
DIRECTING FILM (11 Directing Articles)
Below are 10 highly rated articles, written/blogged by pros, with sights like Variety, IndieSlate, HuffPost who dispense a lot of directing theory.
Enjoy the articles and if frustrated go back to the Nuts-and-Bolts of basic coverage and plan 1 Master Shot, then 2 Medium Shots, then 4 Closeups, then 6 Cutaways and before you leave the location be sure to get 1 Establishing Shot.
CHRIS NOLAN EXPLAINS DIRECTING
https://indiefilmhustle.com/christopher-nolan/
HOW TO DIECT A MOVIE
http://www.wikihow.com/Direct-a-Movie
12 TIPS FOR DIRECTING YOUR FIRST MOVIE
http://www.indiewire.com/2014/11/attention-filmmakers-heres-12-tips-for-directing-your-first-feature-film-68413/
HOW TO DIRECT A FILM – BLOG
http://howtodirectafilm.blogspot.com/
7 DIRECTING TIPS FOR FIRST-TIMERS
http://nofilmschool.com/2015/10/7-directing-tips-first-time-feature-director 
6. LEARN TO DIRECT BY WATCHING MOVIES
https://www.udemy.com/learn-to-direct-by-watching-movies/
THE DIRECTING BASICS
http://www.elementsofcinema.com/directing/directing-basics/
7 STEP FILM DIRECTING FORMULA
https://www.raindance.org/the-7-step-film-directing-formula/
9 TIPS FOR DIRECTING ACTORS
http://www.indiewire.com/2013/02/exclusive-excerpt-michael-rabigers-nine-basic-tips-for-directing-actors-41254/
DIRECTING FOR DUMMIES CHEAT SHEET
http://www.dummies.com/art-center/performing-arts/filmmaking/filmmaking-for-dummies-cheat-sheet/
BONUS:
 DIRECTING A SHORT FILM
http://filmg.co.uk/files/downloads/Directing-Resource-Notes.pdf
Happy Filmmaking
Dov S-S Simens
LEARN DIRECTING… Why Wait?
Want to Produce, Write, Direct?  Want only facts… not theory. Then either of my film programs ($89-389) are perfect for you…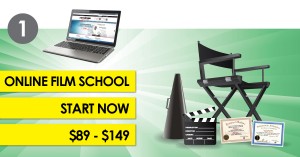 (3 Clicks. Launch your career… www.WebFilmSchool.com)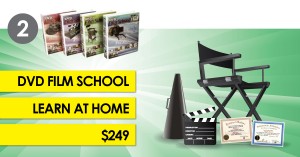 (View over and over…www.WebFilmSchool.com)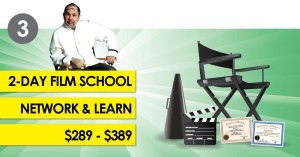 (DEC 8-9/'18,   APR 6-7/'19   or   AUG 10-11/'19)
Real Knowledge. No-Theory. No-Bull.
Keep Up to date… Join our e-mail list.
http://webfilmschool.us10.list-manage.com/subscribe/post?u=313d0b336735c6d5fbf1a8e9d&id=2c55446523
 *** NO-BULL ***