MOVIE CROWDFUNDING SECRETS (6 Steps & I Raised $49,000+)
by Dov S-S Simens on January 19, 2016
CROWDFUND A MOVIE…. MY $49,000 SECRET
Movie Crowdfunding, whether for No-Budget ($3,000-$20,000), Micro-Budget ($30,000-$50,000), Ultra-Low-Budget ($100,000) or Low-Budget (under $1,000,000) Feature Films is a reality.
Whether you utilize donation sites like Kickstarter, IndieGoGo or RocketHub or equity sites like Wefunder, Fundable, Seed&Spark; and if pursuing the equity route, whether you go for Accredited or Non-Accredited Investors the factors for success are the same.
Below is an excellent blog written by a Mr Narek Vardanyan, author of the CrowdFundingFormula.com and the tome "57 Secrets of Crowdfunding", that lists the 6 basic tips for a successful crowdfunding campaign (I agree with him) and turn you into a pro.
FYI: 2 years ago, when I first heard of Crowd Funding & Crowd Sourcing and sites like Kickstarter & Indiegogo I realized that a film movement was going on and if I am to be an excellent film instructor I must stay ahead of the learning-curve and be able to teach from the doing-curve.
Thus, I made up a project, a feature film co-op website, and posted it on IndieGoGo.
I shot a cute video, I explained logically what it is and why it is important, I planned 8 donation levels ranging from $25 to $1,000, I marketed with proper new releases and drove traffic to my project on IndieGoGo… where I made sure my venture was on the first page.
I waited and low-and-behold in 60-days I received over $49,000. Wow. Crowd Funding works.
I never took the money and sent an e-mail to all the donors saying "thank you but no thanks"….
Thus, I can talk about crowdfunding as a doer rather than a theorist.
My Crowd Fund Secrets
The key to crowdfunding success (donations) is (A) Cool Project, (B) Great Video, (C) Concise Explanation, (D) Value Perks, (E) Site Placement and (F) Press/Publicity to make donors aware the projects exists…. Of A-F the two most important was (E) Placement and (F) Publicity.
(D) Perks, if you are creative, is also important and besides the standard e-mail thank yous, t-shirts, coffee mugs, posters think out-of-the-box and give IMDB credits, Associate Producer title, Acting parts, and for $10,000 you can be an Executive Producer, get a free flight (coach) to come to the Hollywood shoot and spend a week learning how to make a movie, get a walk-on acting part and 2 IMDB credits (one for Executive Producer & one for Actor)…. "think out-of-the-box".
Now lets return to Narak Vardanyan's 6 basic tips.
---
1st: Plan 3-4 months ahead
Success hinges on preparation, which accounts for the vast majority of the outcome. The ideal preparation period depends on your project. Your funding goal, expertise, and social network will all determine how long you should invest in this stage, but an average campaigner should consider starting 3-4 months before launch.
This gives you time to begin building relationships with the various organizations that will be interested in your cause or project, as well as the media, journalists, and friends. There is no best time for your campaign launch, but rumor has it that the worst months for crowdfunding are July and August, when everybody is out on vacation, and December, when Christmas and tax season reigns supreme.
---
2nd: Leverage your team power
Imagine yourself as a trainer at a football club. You need the best players to win the game and inspire people to attend, so you build your dream team. You start with ten people; they know ten more, who know ten more and, before you know it, you end up with 1,000 new prospects. Even if you're starting with just yourself or a friend, the principle is the same — it's just a little bit harder.
Organise a party and make a motivational speech about your dream. Build your team. They will have their own responsibilities, so include only the ones you can rely on. And make sure you get organised! Free websites like trello.com are a great way to keep everything on track.
---
3rd: Create a landing page
You need to build an email database since most of your communications will be via email. Why? Because social media is unreliable: Facebook has decreased the organic reach of pages, and even if your page has 10k likes, your posts might only be shown to a couple of hundred people.
Most of your results will come from your emails, so you need to start collecting them right away. One of the best ways to create an email database is to build a landing page — a simple page with your pitching video (can be different from your final video) and photos. Here you'll tell your audience why you are running your campaign.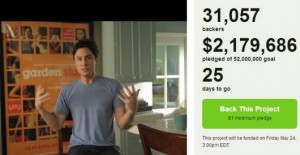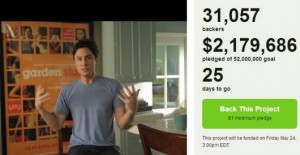 (Yes, Zach Braff raised millions for his movie, as well as Spike Lee did and Veronica Mars did via crowd funding but remember he is "Zach Braff", he is "Spike Lee" and the project is "Veronica Mars" and… sorry for this…. "you are you")
The purpose of your landing page is to encourage people to sign up. If they're going to give you their email addresses, you need to offer something in return (ebooks, early bird discounts, and updates all work well). Your database is your key to success; the bigger it is, the more backers you can reach and the higher your chances of success are.
If you don't have a web programmer, then go to launchrock.com and select a free landing page from there.
Your page has about five seconds to convince users not to hit the ESC button, so consider these steps to make your page irresistible:
Use friendly colours.
Include images of real people (equality hasn't reached every corner of the internet yet, and people will still engage more with images of women than men).
Feature yourself and include a personal message.
Use customer testimonials: 2-3 satisfied users' message about the product.
Say thank you with a share: include a share button to Facebook and Twitter.
---
4th: Create a Facebook page and group
Create a Facebook page and a group to drive traffic to your landing page. All your social media activities should have two main goals: to raise awareness and drive visitors to your landing page.
When creating your page, pick your best keyword and use it in the URL of your Facebook page to benefit from organic search. Use the URL of your landing page in the description of the Facebook posts to drive more traffic. Install smart tabs to your page that lead to your landing page. Do you see where I'm going with this? They should all cross-promote each other. Schedule your posts for the next 30 days. Believe me, you will not have time for a single Facebook post once you've started.
---
5th: Categorise your contacts
Divide your contacts into four groups:
Friends and family
This group is one of, if not the, most important group. 80% of campaigns that raise 30% of their funding early on, reach their goals; so you're relying on this group to raise 20-30% of your final funding goal. And you need them to fund it within the early stages of your campaign.
People who know you and may donate
You should use different language when speaking to this group. Just be careful not to spam them. Be personal. Make the recipient believe that your success depends on him and you're really counting on his support. It is also important not to beg: please help me, please please… nobody likes beggars. Try to motivate them: you are contributing, they are contributing, and you are making something spectacular together.
People who know you and may share your campaign
I usually like to separate these two groups from each other. If you know that this guy most probably will not donate, don't ask him to. He still has his uses. Ask him to share. Raising awareness is one of the most important determinants of funding. Again, make the person feel that he has a crucial role to play. You need his help to succeed. Try to make it personal and don't ask for too many things. People tend to ask for too many things; Back us! Tweet! Like us on Facebook! Email friends! It's overwhelming, and it puts people off. At this stage, the best thing they can do for you is to share your story.
People who don't know you at all
These are the people who opted in from Facebook or your landing page. Introduce yourself to those people. Include personal photos and stories about yourself. Make the person know you. Speak about the importance of your mission, why you are doing it and so on.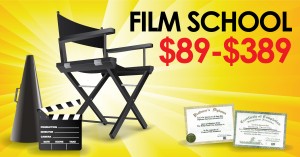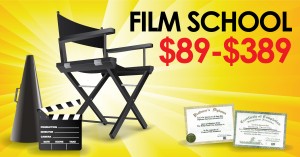 (Equity Crowd Funding explained practically in my 3 affordable Film Programs)
---
6th: Schedule your emails
You will be busy with other stuff, you won't need to remember to send emails to your database all the time. Instead, schedule them using a Gmail plugin like boomeranggmail.com. Streak (streak.com) is a great extension of Chrome, which will allow you to see whether a recipient opened your email or not. Streak is also great when using snippets (i.e., a duplicate of your message so you don't need to copy and paste all the time). Just remember to change the name of the recipients as you go.
Socedo (socedo.com) is another great tool which transforms Twitter into a rich lead mining source. You enter the criteria and Socedo finds profiles that fit it. And the best thing? The program responds to the lead's response, which makes it seem more personal and a lot less like conversing with a bot.
---
COMMENT & SHARE:
www.WebFilmSchool.com.
Real Facts. Real Knowledge. No-Bull.
Keep Up to date… Join our e-mail list.
http://webfilmschool.us10.list-manage.com/subscribe/post?u=313d0b336735c6d5fbf1a8e9d&id=2c55446523
 *** NO-BULL ***