SELL YOUR SCRIPT: MUST #1 (Learn a Great Writer's Secret: Grab the Reader)
by Dov S-S Simens on November 28, 2017
WANT TO SELL YOUR SCRIPT?   "Grab the Reader"
In 1980, when I first came to Hollywood, and took four, almost useless, night school courses on Screenwriting, Financing, Dealmaking & Line Producing at UCLA, made a couple of alleged contacts, who's father's were heavyweights in the industry; and wrote a couple of scripts, practiced my pitch while, 3 months past and I became very tight for money; and out of necessity stumbled into "reading-for-a-living".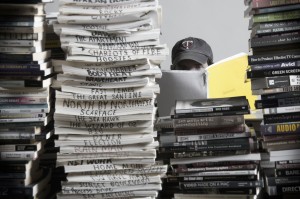 ("Readers, in the early 80s, got paid $65 (90-120 page script), $75 (120+ pages), $85 (Book under 250 pages) and $95 (Book over 250 pages)" for coverage (2 page analysis)
During this time I, lived by myself with a mini-studio apartment in the Farmers Market/Fairfax district of Los Angeles and looked for any part-time movie related job(s) in order afford a monthly $475 rent.
The four scripts (Rom-Com, Action-Adventure, Psychological Thriller and First Kiss) I had written, registered, copyrighted and hustled to agents, deal makers, power brokers and anyone I met at a coffee shop, gas station, Pink's or Oki Dogs during my first two years in LA… had not sold.
Sold!?! I didn't even get the "B*ll Sh*t" standard Hollywood deal of $100,000… pause… with $1 Down and the remaining $99,999 upon "Commencement of Principal Photography" for a 24 month option with two eighteen-month extension periods.
I didn't even get a bloody $1 option, a buck, a single buck, for my four screenplays.
Damn.
Plus, I had (still have) a family, who were about to relocate with me, and had to find a 3-bedroom apartment… so, to make rent I wrote movie reviews for 3-4 magazines (2/week/newspaper at $25 each got me $150-200/week or $600-800/month), which went to rent while hustling "independent reader" gigs, from small production companies that couldn't afford a Development Executive, and learned to do "script coverage" ($25-$50/read) to pay for food and recycled funky clothes from the '50s bought on La Brea/Melrose at some chi-chi boutique for poor people still hanging onto a dossage of panache.
If that same financial situation occurred today, 2017, I'd probably be driving Uber/Lyft with a recorder in the car and while waiting for my next LAX pickup I'd be orating a new story to be typed tomorrow that I got while talking to my last drop off… it's amazing what people tell you when they're in the back seat of your car and think they will never see you again and supplementing as a Starbucks Barista in Beverly Hills or Pacific Palisades where with a Latte, that I'm about to hand over to a rude Cable TV Mogul… I had 5 seconds for a pitch… or two.
SCRIPT COVERAGE IS IMPORTANT
Back to Script Coverage… The best job I found, that was within the film industry, was as an "Independent Reader" for small production companies to do what is called "Script Coverage".
Getting "coverage" is the phrase used when a script is submitted to the company, but the owner, who has other things to do and has received 12-15 scripts in the last 3 days, has an assistant read and condense each one into a 2-page synopsis (aka: analysis) with the first page being the synopsis, a 1-page condensing, of the story and the 2nd page being an opinion of (A) story, (B) characters, (C) plot, (D) dialogue & (E) marketability.
From 1981-1985 I covered (aka: read)  2-3 scripts per nite and 4-5 per weekend.  Pay was $25 for less than 90-pages, $30 for 90-120 pages, $35 for more than 120-pages. Plus, $40 for books less than 250 pages and $45 for books more than 250 pages.
Bottomline: over 4 years I read and covered 700-1,000 scripts/year and made just enough money to pay rent, keep my car full of gas and every now-and-then go to a movie. This pencils out to reading and being asked for opinions on 2,000-3,000 scripts over 4 years.
Here is what I learned….which is important because when you want to get your script to the big name actor, director or producer you have to get a good coverage report from a person like me before he/she will read it.

("Best screenwriting software is Final Draft (easiest to re-paginate), best freeware for Screenwriting is Celtx… Writers Duet, Scrivener, Movie Magic Screenwriter and Fade In are also quite good.")
1st:  Type it properly. If you don't have the proper format it is "binned" instantly.
2nd: Don't design covers that you think are artsy-fartsy. Simple two-hole punch cardboard with the Title centered. Anything artsy-fartsy is binned too.
3rd: Grab the reader. Now let's cut-to-the-chase.
You're script eventually will be read by someone like me, when I was young, still naïve, a little arrogant and thinking I'm really a producer, temporarily out of money, who is barely paying rent do coverage at $25-$50 per read.
Point is whoever you pitch your script to it is going to be read by a person who like me when I was broke in the early '90s that (A) is not excited about reading another script, (B) is paid very little money and (C) really thinks he/she is a producer-in-training.
Thus, GRAB THE READER instantly.
Grab him/her with your 1st Grabber on page-1 of your script by line 6.
If an average page of screenwriting, typed in the correct format, has 20-24 lines…then you better grab the reader (aka: a Grabber), within 15-seconds, on either line 4 or 5 of page-1.
4th: Grab the reader again: Then, on the bottom of page-1, you better have a 2nd Grabber that makes the reader desire to turn-the-page (remember who is reading is someone like me who is truly not happy about reading something at a mere $25-$50) and get that reader into a positive attitude.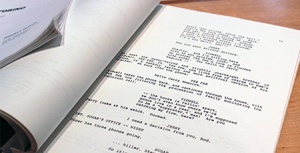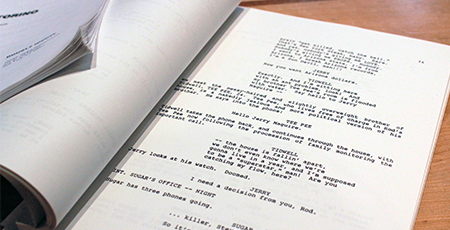 ("Read your script and make sure it has 2 Grabbers on Page-1… Remember, "cut-to-the-chase.")
Now, go back and read your script, that I'm sure you think is great, and more than likely you spent 7-15 pages trying to establish characters and settings and what you have just accomplished is a frustrated screenwriter, now a Reader, like I was 30 years ago, just threw it away.
Grab-The-Reader!
You gotta Grab-The-Reader!
Now, lets get back to you and your script… Re-read it as if you were a pissed-off-negative Reader and make sure there are 2 GRABBERS on Page-1 that grab him or her and make him/her want to read more.
Now the reader, he/she will read 10 pages…and his/her attitude has gotten a little positive.
Then, if the 10 pages are great… the reader will now read, with a positive attitude, the entire script.
If the entire script is great…
Voilla!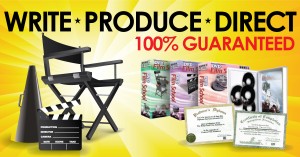 ("Want a great Christmas Gift? Give a career… My DVD series is perfect.r.")
Welcome to Hollywood,
Dov Simens
XXXXXX
Live, DVD or On-Demand FILM SCHOOL 
Want facts not theory… My three Film Programs are perfect.
Enroll. Graduate. Write. Produce. Direct.
Upcoming "HOLLYWOOD FILM SCHOOLS" are… DECEMBER 9-10/2017… APRIL 21-22/2018… AUGUST 18-19/2018.
Keep Up to date…
Join our e-mail list.
http://webfilmschool.us10.list-manage.com/subscribe/post?u=313d0b336735c6d5fbf1a8e9d&id=2c55446523
 *** NO-BULL ***