THE SCRIPT WRITER'S GREAT SECRET ("Re-Writing. 10 Tips. #2 is Easy. #8 is Cool")
by Dov S-S Simens on March 7, 2016
MAKE A GOOD SCRIPT A GREAT SCRIPT
Nothing is written…it's re-written.
And the key to making your script great, assuming a "good ear", a phrase for great dialogue, is how to not fall in love with what you've typed and can Delete, Delete & Delete, Tweak, Tweak & Tweak and make the second draft GREAT.
IMPORTANT POINT: Always remember "Good is not good enough".
This is very important for first-timers to understand.
Hollywood, and established writers, can get away with mediocrity. Thus, when they are hired "Good is probably good enough." and on to the next project.
However, for first-timers like you "Good is not good enough"…. "You gotta be poifect"
You must be great. Your first script must be great.
Therefore, you must-must-must spend more time doing re-write(s).
Now permit me to give you a little bit of information on your RE-WRITE
GREAT SCREENWRITING RE-WRITING BOOKS
You have written your script. You believe it is great. However, it isn't.
The process is First take a one-two week break. You will be amazed how many "Moments of Clarity" or "Story Realizations" or "Character Definitions" pop into your head…. Jot them down but do nothing with them writing wise.
Now, send you script out to 2-3 people ($65-$85/each) and get professional coverage.
IMPORTANT POINT: When hiring a "reader" to give you "coverage" do not tell him/her you write this script and need his/her opinion. You know the "reader", whom you are paying, is going to be polite and politically correct… You will not get good/honest coverage. Thus, when you hire a reader for coverage tell him/her "You are a Producer thinking of buying this script to finance and make… what is his/her opinion"… Now, you will get ruthless honesty
Now, after obtaining 2-3 coverage reports and making some notes… let's proceed to the Second Draft, making the First Draft greater and possibly even have it be called the Final Draft.
First there are numerous books (go to the Writers Store, Burbank, California to obtain them) on the process of Re-Writing…
Linda Seger's "MAKING A GOOD SCRIPT GREAT"
William Akers' "YOUR SCRIPT SUCKS"
Syd Field's "SCREENWRITERS PROBLEM SOLVER"
Pilar Allesandra's "COFFEE BREAK SCREENWRITER"
Each one of these books will make you look at each scene (you should have 40-60 for a movie) and re-think it, re-structure it & re-write it.
EDITING…you have to do it. I repeat, Re-writing (aka: Editing) you have to do it.
And, please don't get some false-sense of accomplishment from a lot of this Facebook rah-rah stuff, where someone posts how excited they are because so-and-so has read their script and really likes it. For there are only 2 types of script!
It is either (1) great-and-wonderful and anyone who reads it wants to (A) Buy It or (B) Finance it… or (2) it sucks.
How to tell if it's great or it sucks?
Simple.
Money. Money. Money.
If the person who has just read it doesn't instantly give you a Cash Offer with a written Option Agreement, for 24-36 months, with 2 extension periods, and a down payment with a payment schedule… Then you script Sucks…. It Fr*ckin' sucks but the reader doesn't have either the guts to tell you or is scared that he/she will hurt your feelings and says something like "Like the Concept, Characters need a little more depth and Act II is a little weak".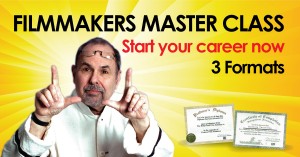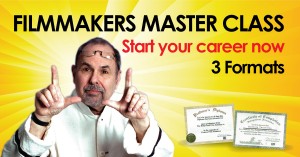 (I work hard at getting you the No-Bull, politically incorrect, filmmaking information. www.WebFilmSchool.com. Hope you enjoy.)
But don't by any of these "Facebook rah-rah stuff", that you have had a professional Hollywood reader read your script and really likes it… For if anyone inside the industry reads your script and doesn't instantly buy-it, option-it or finance-it (aka: you get a check)….then he/she doesn't like it… for it S.U.C.K.S.
Now, you know I like Seger's book "Making A Good Script Great" and I'm sure you can tell by the title why I also like Aker's book "Your Script Sucks" (the dude talks like me) and of course Syd Field is the master and Pilar's book has a couple of really good editing chapters.
NOW LET'S DO THE SCREENPLAY RE-WRITE
RE-WRITING ISSUES:
Is it typed in correct format
Is Page-1 Great
Dialogue: Do your characters become visual
Each Scene has a story
Write to the Genre (change emotions from Astonished to Horror) (Dramatize movements, "She SLITHERS away", instead of "She moves away") (Edit, Cut-to-chase: Cut 1 out of 3 lines and/or 1 out of 3 words in Dialogue)
DELETE-DELETE-DELETE (Delete, polite exchanges, speeches that repeat, people talking in monologues; people saying each other's names when talking to each other)
Open with action: Don't start a scene with exposition or descript. Start with action. Grab reader. Grab reader. Grab reader.
Open in the middle of dinner, middle of a sex scene, middle of party… don't just start with introduction and explanation.
Dialogue: make sure every talking scene has a Passive Character & an Active Character.
Conversations: Every talking scene with 2 people has three things being said: (1) What he is saying & she is thinking; (2) What she is saying & he is thinking; (3) What both of them are trying.
There are so many things to do during the re-write to make your script great… Please. Please do them… And to learn from the pros I advise getting AND READING a minimum 2-3 of the above 4 books.
Now finish the first draft. Register & copyright it. Take a 2 week break. Jot some notes. Get Script Coverage. Read a couple of Re-Write Books. Do the Re-Write. Focus on Dialogue and Cut-to-the-Chase. Make it Great. Register & Copyright it again. Sell it. Sell it. Sell it.
Happy Screenwriting
COMMENT & SHARE:
What did you discover on your Re-Write?

www.WebFilmSchool.com.
Real Facts. Real Knowledge. No-Bull.
Keep Up to date… Join our e-mail list.
http://webfilmschool.us10.list-manage.com/subscribe/post?u=313d0b336735c6d5fbf1a8e9d&id=2c55446523
 *** NO-BULL ***