TOP 20 GREAT FILMMAKING TIPS (Be Careful of #10)
by Dov S-S Simens on August 14, 2015
MovieMaker Magazine
Once again "MovieMaker Magazine", an excellent periodical for Filmmakers, First-timers, Professionals, and Afficionados, from a hip Bi-Coastal (Oregon & Maine) publisher (moniker: Tim Rhys) who was/is one of the first to tout/praise Mr Sanders (I'm still a Bloomberg man) as our new leader has come up with a superb article, in their Film School issue, on the "11 FILMMAKING TIPS" (tongue-in-cheek humor) learned by a now pro.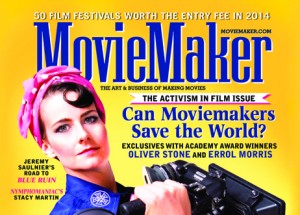 I have added my 9 (yeah I know… no one asked) and have now made the Blog the 20 FILMMAKING TIPS.
20 FILMMAKING TIPS
The first 11 Filmmaking Tips are from Harmony Korine who at the age of 22, wrote the screenplay for KIDS, about 24 hours in the day of an HIV-positive teen, was made into a feature film by Larry Clark.
HARMONY KORINE'S 11 TIPS
(1) Nerds & Casualties make good filmmakers
(2) If you have a missing hand, your stumped wrist works well as a Tripod
(3) Never hire a catering service that employs Lepers
(4) Ugly actors are good but they should have teeth
(5) Impotent Producers are spunky Filmmakers
(6) If your entire crew is gay. Your movie will likely be gay-themed.
(7) Make sure the script is over 10 pages.
(8) It is good to hire at least two handicaps.
(9) Make sure your DP is a communist
(10) Don't jerk off for 6 weeks prior to principal photography
(11) Make sure your Gaffer is addicted to Opiates
DON'T BLAME THE WRITER
Hey, the above 11 items are not mine. So don't blame the messenger. Now here are my added 9 to make the list a solid 20 FILMMAKING TIPS.
(12) EXT-NIGHT is not allowed in your script. INT-NIGHT (yes). EXT-DAY (Yes). INT-DAY (Yes) But no EXT-NIGHT… No time for Turnaround.
(13) CREW: Minimum 4 women (Script Supervisor, Art Department, Craft Service & 2nd AD) but can be more… Men on crew then (A) shower & (B) work harder.
(14) FOOD: Coffee: Make sure craft Service has Coffee Perked not Perking…. 1st thing you do on a set everyday is make coffee… make it on time.
(15) ACTORS: No Acting Allowed. This means no 2-3 takes per setup. It ain't in the No-Budget budget.
(16) GET IT DONE: Don't get caught with making it great. You want it (A) Done-Done-Done, it ain't gonna be perfect for (B) Not Done but Great is useless
(17) AUDIO: Make sure it is perfect. Don't care if Lit well, acted well, Shot well, Looks well…. If you can't hear it… It sucks. Audio-Audio-Audio.
(18) 555-5555: Make sure you can get E&O… Every phone # starts with 555… JUST DO IT.
(19) FORMATS: Want it to look like Film. Then shoot with film. Film looks like film & electronic looks electronic.
(20) PUBLICITY: Hire a Publicist. You can't say "you're great". That's ego & arrogance & you are not Trump. However, a publicist can say it and then you can be humble when asked by interviewers "Why are people calling you great".
STREAMING FILM SCHOOL
DOV S-S SIMENS / DEAN / HOLLYWOOD FILM INSTITUTE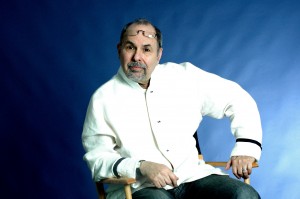 Hello,
I'm Dov Simens and I hope you will enjoy any of my common-sense Film Programs (Live, DVD or On-Demand)…
…www.WebFilmSchool.com
Happy Filmmaking,
BONUS: 7 PRACTICAL MOVIE BUDGETS
(ONE) No-Budget $1,000-$10,000 Feature Film
https://www.webfilmschool.com/1000-10000-feature-film-aka-no-budget-filmmaking/
(TWO) Mini-Budget $10,000-$20,000 Feature Film
https://www.webfilmschool.com/10000-20000-feature-film-aka-credit-card-filmmaking/
(THREE) Micro-Budget $20,000-$30,000 Feature Film
https://www.webfilmschool.com/20000-30000-feature-film-aka-shot-for/
(FOUR) Ultra-Low-Budget $30,000-$50,000 Feature Film
https://www.webfilmschool.com/30000-50000-feature-film-aka-micro-budget-filmmaking/
(FIVE) Very-Low-Budget $50,000-$70,000 Feature Film
https://www.webfilmschool.com/50000-70000-feature-film-aka-mini-budget-filmmaking/
(SIX) Low-Budget $100,000-$200,000 Feature Film
https://www.webfilmschool.com/100000-200000-feature-film-aka-ultra-low-budget-filmmaking/
(SEVEN) Independent Feature Film (aka: Million Dollar Feature)
https://www.webfilmschool.com/300000-500000-feature-film-aka-just-under-million-dollar-movie/
Keep up to Date… Join our E-Mail List
***** NO-BULL *****