THE $1,000,000 PER WEEK ACTOR: (BONUS: 5 Premiere Series Casting @ $3,239/Week)
by Dov S-S Simens on February 28, 2017
THE $1,000,000 PER EPISODE ACTOR
Start at $933/day or $3,239/week.
The Screen Actors Guild (aka: "SAG") rate for first-time actors on a new tv series is $933/Day or $3,239/Week. And, remember these are the minimums… and I think you recall those 6 darlings from "FRIENDS" who got $1,000,000/Episode.
OK… So how does this $1,000,000 per Episode happen?
Well, first year, if you are not the star, which you are not… ("yet")… for rent you're working UBER, driving a 2010 Prius (86,327 miles), getting those XL fares or tending Bar in Silver Lake or West Hollywood (making Long Island Ice Tea is a pain) to leave yourself available for a Cattle-Call and 2 Call-Backs and by-God you actually hit and score a recurring role (Actor #4, 5, 6 or 7) on a network pilot that actually-goes-to-series (4-10 episodes) you will likely get SAG minimum of $3,239 per Episode and possibly get it bumped (what-the-f*ck) to $5,000 per Episode and pay your back rent, go to Fred Siegel, dump your $34.95 Charlotte Russe Jeans and score ripped, $595 R13 Shredded Boyfriend jeans and actually pay for a Saturday nite date but still use Groupon & Livingsocial Vouchers.
Now, if the series goes to a 2nd year (it's successful), you (actor #4, 5, 6 or 7), who has switched agents to one of the 6 power agencies (ICM, CAA, UTA, APA, WME, etc.) with an in-training 26 year old power agent, who cancels the first season $3,239+ per episode rate and negotiates you to a Flat Fee of $25,000-$35,000 per episode (dump the Prius buy a Beemer, 5-series not the 7-series)… and the 3rd year (it's even more successful) he/she gets you $35,000-$50,000 an episode and you're out shopping for a house (Laurel Canyon, not Nichols or the Valley but North of Ventura Blvd).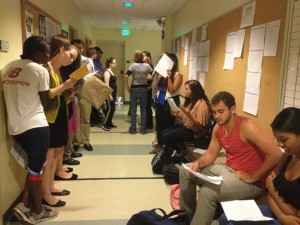 ("For tv series casting, the Cattle-Call, is open to almost everyone, name value is truly only valuable in Movies.)
OK, you're at $35,000-$50,000 an episode… Now, let's talk that $1 Million/episode and those 6 "FRIENDS" actors… the key for tv actors to making mega-rates is to wait until the 4th season and re-negotiate.
Why?
Simple, success, the pot-of-gold, for televion producers is to own a show that goes 5 years and gets 80 to 100 episodes in-the-can.
Then, it can be syndicated (aka: sold or licensed) to USA TV stations that now air it (aka: reruns) Monday to Friday (aka: A Strip Show) at 10:00am, 10:30am,….2:00pm, 2:30pm, 3:00pm, etc. and also license it to Foreign TV networks (Italy, Russia, Germany, Australia, Brazil, Hong Kong, etc.), working the buyers at NATPE or MIPCOM, where the producer makes an additional Bonus Profit of $100-$300 Million.
Damn… Bonus… $100,000,000 to $300,000,000. This is good… 5 Years… 80-100… Episodes…TV is good.
Don't oyu think the actor knows this and even if he/she is a real dufus his/her agent knows this.
Now, the actor's agent, knowing the producer is nearing that $100-$300 Million, always tells the producer "My actor is thinking of doing movies."
Producer then says, "Actor, that UBER driver, who was two months behind in rent and got him a Beemer & a 3-Bedroom Cape Cod in Sherman Oaks… what does he/she want?"
ACTORS PAID $100,000 to $300,000 PER EPISODE
When a tv show (30-minute sitcom or 60-minute drama) goes (aka: runs) for 5 years it means it produced and stockpiled between 80-100 episodes and is available for syndication.
Common sense would say that if you were the unknown actor, cast in a new tv series, starting at $3,239/week (first year) and after 3 seasons (3 years), now has 50-60 episodes in-the-can, and getting very close to the 80-100 episodes needed for strip-show syndication, with the $100-$300 million bonus, you would probably have your agent re-negotiate your contract for the 4th and 5th seasons to at least $100,000 per episode.
Makes sense. Duh.
ACTORS PAID $800,000 to $1,000,000 PER EPISODE
Plus, if the tv series runs for 10-years ("MASH", "ER", "FRIENDS", "EVERYONE LOVES RAYMOND", TWO AND A HALF" etc.) and accumulates 200 episodes… then the show is worth a Bonus of $1,500,000,000 – $3,000,000,000 (Yes, B as in Billion)…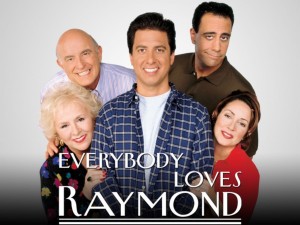 ("Romano and each of his cast are very happy with the "backend" profits of "Everybody Loves…")
Now you know why Charlie Sheen or his replacement, Ashton Kutcher, get $800,000 per episode and why 6 actors on an excellent sitcom called "FRIENDS", can band together in their tenth-and-final season, and demand $1 Million per episode.
If you were a Producer knowing that if you do a tenth year of 20-22 episodes, you'd get to the magic number of 200 episodes, can now syndicate the series globally and make an additional $1.5 – $3.0 Billion… would you pay 6 actors, $1,000,000 each, or $120 Million (20 episodes) to guarantee you make $1.5 – $3.0 Billion?
Duh… I think so.
Welcome to the world of tv.
BONUS: 5 NEW TV SERIES CASTING
Now it's your turn.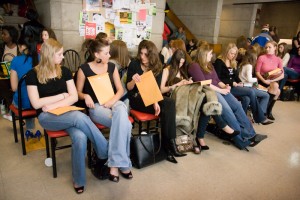 ("Cattle-Calls are open to everyone and you can get 2 Call-Backs and a recurring role…Who knows?")
Here are 5 new tv series that are in their Premiere Season…
And if season one hits… It might go 5…
And if it goes 5, it will liekly go 10 years…
And there is always a possibility that you can get a role in an episode for year-2 that the character so hits that he/she becomes a recurring role in season 3… and when it goes 5 or 10 years, you-the-actor, playing role #6, will likely be making (Think Kramer on "SEINFELD") minimum $200,000/episode… and maybe more… and maybe even own 2-3% of the "backend".
The 5 Premiere Series are…
(1) "AMERICAN HOUSEWIFE" (Los Angeles shoot)
NETWORK: ABC, Comedy, ABC Studios
CASTING: Brett Greenstein & Colin Daniel, 1030 Cole Ave, Los Angeles, CA 90038
(2) "BULL" (New York shoot)
NETWORK:  CBS Television Studios, Drama, Amblin Studios
CASTING: Kathleen Chopin, 1 Union Square W, Suite 902, New York, NY 10001
(3) "MACGYVER" (Atlanta, GA shoot)
NETWORK:  CBS Television Studios, Drama, Lionsgate
CASTING: Elizabeth Barnes, 10200 Riverside Dr, Toluca Lake, CA, 91602
(4) "NO TOMORROW" (Vancouver, Canada shoot)
NETWORK: The CT, Warner Bros TV, Drama, Electus
CASTING:  Liz Dean, c/o Ulrich/Daawson/Kritzer Casting, 4705 Laurel Canyon Blvd, #301, Valley Village, CA 91607
(5) "THE EXORCIST" (Chicago, IL shoot)
NETWORK: FOX, Drama, 20th Century Fox TV, Morgan Creek Prdns
CASTING: Eric Dawson, c/o Ulrich/Dawson/Kritzer Casting, 4705 Laurel Canyon Blvd, #301, Valley Village, CA 91607
Happy casting.
Plus a further benefit for you, once you land a recurring role in a TV Episodic, is that it gives you street-cred to star in a Micro-Budget ($50,000-$200,000) or No-Budget ($10,000-$40,000) movie, in a leading role, that plays the festival circuit and gets you also a foundation of acting in the Independent Movie Industry.
Happy Filmmaking…
Dov Simens / Creator DVD, 2-Day & Streaming Film Schools
PS: Got nothing to do… then get my $89 Streaming Film School and laugh while you learn.
XXXXXX
20-HOUR (Live, DVD or On-Demand) FILM SCHOOL 
Want facts not theory… Then my Film Schools ($89-$389) are perfect.
Enroll. Graduate. Write. Produce. Direct.
Next "HOLLYWOOD (2-Day) FILM SCHOOL" sessions are April 8-9, 2017 or August 19-20, 2017.
Keep Up to date…
Join our e-mail list.
http://webfilmschool.us10.list-manage.com/subscribe/post?u=313d0b336735c6d5fbf1a8e9d&id=2c55446523
 *** NO-BULL ***