ACTORS: YOU ARE UNIQUE (10 Hollywood Casting Directors)
by Dov S-S Simens on August 10, 2015
ACTORS: Cold Auditions: How to Get Your First Part
Remember… "You are Unique"…. "You are a One & Only"… "No One Looks Like You"… "There is a Great Part Looking for You"…
There is a Producer, Ad Agency, Client and Casting Director that is looking for someone that looks exactly like you.
Now let's find the Casting Director with the client, with that great part…. that is looking for you.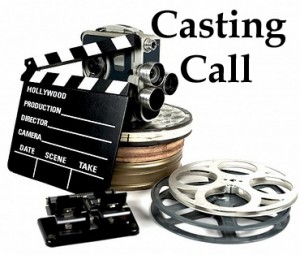 CASTING IS A NUMBERS GAME:
Yo Actors let's get a job and, I repeat, always remember (A) No one looks like you and (B) you are Unique and original.
Now it becomes a numbers game. Get yourself out to enough "Cattlecalls" (aka: mass casting sessions, where you only have 2-3 minutes in front of the Director or Producer) in hopes of getting 2 "Callbacks" and a real acting job.
Every Pro Actor knows, unless you are famous, that you need to get 1 "CattleCall" and 2 "Callbacks" to get a gig.
Now, how do you find out about the 100-200 Casting Sessions going on every week in Los Angeles/Hollywood/Santa Monica/Burbank/etc.?
Simple. You get a Casting Director who is a subscriber of "Breakdown Services" (more on this site, which, for actors, is a super-super important site) that posts all the Casting Sessions and where to go and what time to show up for each "Audition".
To find Casting Directors in your area, and especially, Hollywood then you should get the bi-monthly magazine called "CALL SHEET". It is published by "BackStage", the weekly trade newspaper for actors, and you can find it at all newsstands in LA, NY & Chicago.
1 CATTLE CALL & 2 CALL BACKS
I will now open the most recent edition that has on the cover "THE ULTIMATE GUIDE to CASTING DIRECTORS & TALENT AGENCIES" and post the first 16 Casting Director listings in alphabetical order which just cover the letter "A".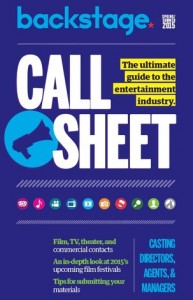 ABC ENTERTAINMENT CASTING….. 500 S Buena vista St, Burbank, CA (818-560-1000)
ABC FAMILY CASTING….. 3800 W Alameda Ave, #440, Burbank, CA (818-973-4366)
ACTORS WORKING….. 531 Main St, #135, El Segundo, CA (310-606-0813)
ADELE ASHLEY CASTING….. 9461 Charleyville Blvd, #348, Beverly Hills, CA (310-435-1977)
ALLISON JAMES CASTING….. 601 N Larchmont Blvd, Los Angeles, CA (323-461-0705)
ALYSON HORN CASTING….. 1020 N. Sycamore Ave, Los Angeles, CA (323-874-8764)
ALYSON SILVERBERG CASTING….. 12001 Ventura Pl, Studio City, CA
AMBER HORN and DANIELLE AUFIERO….. 5225 Wilshire Blvd, #636, Los Angeles, CA (323-954-3600)
AMY LIPPENS CASTING….. 606 N Larchmont Blvd, #48, Los Angeles, CA
ANDREA STONE-BROKAW….. 1112 Montana Ave, #138, Santa Monica, CA (310-862-9330)
ANNELISE COLLINS CASTING…..
APRIL WEBSTER & ASSOC…..
AQUILA/WOOD CASTING…..
ASG CASTING…..
AVA SHEVITT CASTING…..
AYC CASTING….
Hello Actors, "coming to Hollywood", well get an Agent is important, and likely, a personal manager is also important… Now, until you have one why not start sending your Headshots & Demo Tapes to Casting Directors…
Plus, post on sites like "CASTNOW" and "BREAKDOWN SERVICES" and….
And again your mantra is "No One Looks Like You… You are Unique & Original"… Now get your body on "Cattlecalls"
Hello,
I'm Dov Simens and I believe you will enjoy any of my 3 affordable Film Programs (Live, DVD or On-Demand)…
…www.WebFilmSchool.com
Happy Filmmaking,
Keep Up to date… Join our e-mail list.
http://webfilmschool.us10.list-manage.com/subscribe/post?u=313d0b336735c6d5fbf1a8e9d&id=2c55446523
 *** NO-BULL