NY ACTORS (10 NY Casting Directors, with Addresses)
by Dov S-S Simens on August 12, 2015
NEW YORK CASTING (Theater, Commercials, TV & Film)
Broadway here I come and Madison Avenue (Commercial Biz) I got the look.
Hey, NY Actors or should I say Thespians. Let's assume you can sing & dance for without that you "ain't gettin' a gig for Broadway" but always remember they shoot 1,000s of Commercials in Manhattan, they have an amazing amount of Modeling Gigs, even for the everyman/everywoman look, and, thanks to NY State's Rebate/Refund Program and only NY looking like NY, they still cast 1000s of parts for Movies & Soaps there.
Last Monday's Blog was for LA/Hollywood based actors needing a list of Casting Directors and some knowledge how to find over 300 of them.
Monday was West Coast… Now let's go East Coast.
So NY/EastCoast Actors let's get a job and always remember (A) No one looks like you and (B) you are Unique and Original.
Now it becomes a numbers game. Get yourself out to enough "CattleCalls" (aka: mass casting sessions, where you only have 2-3 minutes in front of the Director or Producer) in hopes of getting 2 "Callbacks" and a real acting job….
Go on enough CattleCalls and the Callbacks will come.
Get enough Callbacks and the jobs will come…
Get enough jobs and the rest is up to you, your talent and how much G-d really likes you.
CATTLE-CALL & 2 CALLBACKS (That's all that's needed)
Again, every Pro Actor knows, unless you are famous, that you need to get 1 "CattleCall" and 2 "Callbacks" to get a gig.
Now, how do you find out about the 100-200 Casting Sessions going on every week in Los Angeles/Hollywood/Santa Monica/Burbank/etc.? Simple. You get a Talent Agent who is a subscriber of "Breakdown Services" (more on this site, which, for actors, is a super-super important site) and you get in front of all the Casting Directors in your area who know about all the Casting Sessions and where to go and what time to show up for each "Audition".
To find Casting Directors in your area, and especially, Hollywood then you get the bi-monthly magazine called "CALL SHEET". It is published by "BackStage", the weekly trade newspaper for actors, and you can find it at all newsstands in NY & Chicago.
NY CASTING DIRECTORS WANT HEADSHOTS
I will now open the most recent edition that has on the cover "THE ULTIMATE GUIDE to CASTING DIRECTORS & TALENT AGENCIES" and post the first 10 listings which alphabetically just cover the letter "A".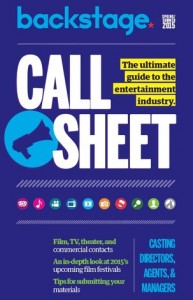 AAAVOICE CASTING

City Vox, 630 Ninth Ave, 4/F, NY (917-363-9877)

ABC ENTERTAINMENT CASTING

157 Columbus Ave, 2F, NY

ABEL INTERMEDIA/BARBARA BARNA

249 Smith St, #122, Brooklyn, NY (718-403-0200)

ACW WORLDWIDE

132 St Marks Pl, #1, NY (212-533-8536)

ADRIENNE STERN

Box 1037, NY, NY (212-229-2811)

ALAN FILDERMAN CASTING

333 W 39th St, #601A, NY, NY (212-695-6200)

ALISON GOODMAN CASTING

260 W 44th St, 3F, NY

AMERIFILM CASTING

151 First Ave, Suite 225, NY (917-715-4291)

AMY GOSSELS CASTING

175 E 74th St, #5F, NY

AVY KAUFMAN CASTING

180 Varick St, 16F, NY (212-620-4256)
Hi Actors, this is only the first 10 listings in NY Casting Directors in the bi-monthly publication "CALL SHEET"
The saying is "You can lead a horse to water but you can't make them drink".
Actors it is now up to you. And remember "You are Unique"… Now get your headshot and get it to every Casting director in your area with a note that you intend on being a "Pleasant Pain-In-The-Ass" until you get your first gig to demonstrate (A) you show up on time, (B) you can actually act and you are (C) capable of paying gigs…
ACTOR'S TAKE CONTROL OF YOUR CAREER…… HOLLYWOOD'S SECRET FILM SCHOOL
Hello,
I'm Dov Simens and I believe you will enjoy any of my 3 affordable Film Programs (Live, DVD or On-Demand)…
…www.WebFilmSchool.com
Happy Filmmaking,
Keep Up to date… Join our e-mail list.
http://webfilmschool.us10.list-manage.com/subscribe/post?u=313d0b336735c6d5fbf1a8e9d&id=2c55446523
 *** NO-BULL