WHY YOUR SCRIPT SUCKS: 6 PHRASES TO DELETE
by Dov S-S Simens on May 11, 2015
SCREENWRITING & FILMMAKING: Avoid Guaranteed Failure… If you desire to either Produce or Direct a script that you either wrote or optioned then Absolutely-Make-Sure that any of these 6 words-or-phrases have not been typed in the 90-100 pages that you are about to make with very little money.
If you do not desire to either Produce or Direct the script you either wrote or have secured the rights to then disregard what I am about to detail… However, if (I repeat) you intend on Producing or Directing this project, and this is your first feature film that you are about to get an Opening Title Credit on, then please read carefully
FOOTNOTE: Please-please be real. Be realistic. The very first feature film that you actually make will be on a miniscule-budget, call it Low-Budget, No-Budget, Micro-Budget or even Digital Filmmaking or Independent Filmmaking, but the bottom-line will be that you, like 999-out-of-1000 first-timers, will only have $20,000-$200,000 to make your feature from Script-to-DCP.
Therefore, everyone inside-the-industry knows that with this small dollar amount you are going to have shoot quick, move fast, get coverage and maximize your hours knowing that you must accomplish either a 1-week, 2-week or 3-week shoot.
Thus, make Absolutely-Sure these 6 Words or phrases are not in your script.
So What are the 6 Magical Words or Phrases to Avoid?
1. EXT-NIGHT
2. MONTAGE of SCENES
3. SUNRISE or SUNSET
4. CROWD SCENE
5. CAMERA FOCUSES
6. FLASHBACK
OK Dov… Since you're so smart…Explain why?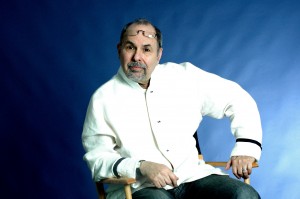 1. EXT-NIGHT: You, when shooting , wakeup at 5am, shower at 5:15am, car at 5:30am, get to the set at 6am, park at 6:15am, coffee at 6:30am, meet actors & DP at 6:45am, setup at 7:00am, get first shot at 7:30am (if lucky), do 12-15 setups, have lunch a 1pm, do 12-15 setups, stop shooting when it is dark… Now wait until it gets dark and shoot EXT-NIGHT Scenes… knowing that at 6am you start shooting EXT-DAY again…  You are going to be awake and working 36-40 hours straight…There just is not enough time… DON'T TRY IT… DON'T TRY IT… DON'T TRY IT… No EXT-NIGHT.
2. MONTAGE of SCENES: Oh, Okay. Yeah. Sure….You're No-Budget to Low-Budget and then you're gonna go here, then go there, then go here, then go there, then go here, then go there… just to grab a shot that is only gonna be on the screen for maybe 2-3 seconds… Dumb! Not efficient… Don't be a lazy writer… Lazy writers love to type "A MONTAGE OF SCENES SHOWING THEY LOVE EACH OTHER"… Lazy! Do great dialogue. Show that they " are falling in love" by the dialogue.. Don't get lazy and just type A MONTAGE OF SCENES that shows….
3. SUNRISE or SUNSET: Again, "Lazy Writing"… First, you have no idea what a Sunrise or Sunset is going to look like 6-months to 3 years from now if your script ever gets made… Second, Sunrise and Sunset only last for about 15-30 seconds… Tell me how you're going to ask God to go back to Position 1 because you might need a second, third or fourth take… Please dump the Sunrise or Sunset slugline from your script
4. CROWD SCENE: As if you can't figure out this is a logistical nightmare, expensive and time consuming… Plus, please tell me how you're going to have a Crowd Scene, when you're trying to get good coverage, to Do-It-Again…  Go ahead ask a crowd, that is not getting paid, to "Could you all come back. Please. Please. Please. I need to do another take"… Ain't gonna happen on Micro-Budget or Low-Budget
5. CAMERA FOCUSES ON… : Stop it. Stop it. Stop writing your script as if you were directing. First, lets just write the script and make it great from the dialogue and story and try very-very hard to stay away from thinking you're a director while you're writing… I know this might be contra to what instructors teach at USC's $250,000 Film School or NYU's $300,000 Film School… But it is just my opinion… First step, just think being a writer and write the great script… Tell the story with dialogue… Don't write the great script thinking visual… First get the great script… then you will make it greater.
6. FLASHBACKS: Again this is Lazy Writing… When you're writing for a Hollywood Dealmaker or a Major Movie Studio and budget is not the issue then knock yourself out with Flashbacks, as well as Montages, Crowd Scenes, Locations, Stunts, VFX, Costumes… However, when you are a first-timer with minimal cash, you just do not have the money, which translates to time and logistics, to execute it… Please stay away.
OK DOV… So what do I write… If I'm going to Produce or Direct?
Answer is simple, and it is based on the school-of-hard-knocks, from my many years working for Roger Corman ("King of the Bs") and other Independent Distributors, with first-timers directing and never having more than $200,000 to make their first feature film… Corman also said the key to directing is "GET A MASTER & 2-POPS" which I'll explain on a later Blog about the Tricks of Directing.
Oops. I'm rambling. Your first feature film script that you are going to direct or produce… but do it successfully… and get it done ON-BUDGET and ON-SCHEDULE is going to be a 90-100 page, contemporary (means no costumes, normal clothes) story, set in 1-location, with INT-DAY, EXT-DAY and INT-NIGHT (you can make a room in a house look Night) scenes. But no EXT-NIGHT and no CROWD SCENES, and no FLASHBACKS, and no MONTAGE OF SCENES…
Yeah, I know it's not easy and this seems to be becoming a boring script. You're correct and your job is to write it and make it not boring… And if you can do that, then you have talent and Hollywood's Agents, Managers, Deal Makers and Executives are going to be all over you…
***** NO-BULL *****