OLD HOLLYWOOD IS DEAD: The New Hollywood Lives
by Dov S-S Simens on December 20, 2020
MOVIE vs FILM: Old Hollywood is Dying
Hollywood, the movie industry, pre-pandemic was real simple.
(20th Century Fox, now 21st Century Fox, is no longer… Disney bought it… 6 Studios are now 5)
FIRST: Make a Film! Everyone knows how.
SECOND: Make it into a Movie! That's with the "P&A" (Print & Advertising) money… Only the studios had that ability.
THIRD: Then, cash in from 20-25 IPs (Intellectual Properties), also called "Ancillary Revenues", after the theatrical run, with On-Demand, DVDs, Cable deals, TV licenses, Foreign sales, Music revs, Product Placement Sales, Book rights, Merchandising, etc.
And Hollywood, only Hollywood (6 Major Studios, now 5 (bye-bye Fox) & 10 Mini-Majors) with their marketing money and access to all the mini-, multi- & mega-plexes worldwide, had the ability.
But that formula is coming to an end with indy films rather than studio movies.
IS A FILM A MOVIE?
No! Answer is "No". An emphatic "No"… A Film and a Movie are two entirely different things…
So what's the difference?
A Film is something with dissolves, fades, dialogue, music and titles that has no value… Whereas a Move is something with dissolves, fades, dialogue, music and titles that has a value… Emphasize "that has a value"… A Movie is a commodity… A Film is art.
(Paramount makes movies… Filmmakers make films… Movies make money… Films make?)
Explain, please.
A Film becomes a Movie, and has a value, when it screens in a Movie Theater, with all the promotional ads and billboards, proclaiming it's a movie, and states what theaters it is in where a ticket to view it is $12-15.
Point! Movies are not free. To see a movie you must pay $12-15. Whereas, films are free… Just google, youtube, play internet… films are everywhere.
Again, to see a film, now called a movie, in a cinema you must pay… Money! Tickets! Box Office Gross!
Thus, a movie is a commodity, it has a ticket price, of $12-15… A film, well a film-is-a-film.
MOVIES MAKE MONEY
So why is so important to have a film become a movie and then how do films, that become movies (theatrical distribution), make money?
Simple! A major distributor like Sony, Disney or Paramount finance a film and put it into theaters (America 300 Million people), advertise it, promote it, inflate the budget and tell the world it is a movie and one of the most expensive ever made and hope that opening weekend 1-2 out of 100 people attend.
1-2 out-of-100?
America has 300 Million+ people. If 1-2 out of 100 attend. They sold 3-6 Million+ tickets at $15 and it just Grossed $45-90 Million (Box Office Gross) opening weekend… Now what about week 2, week 3, week 4?
(My Streaming Film School, now $129-189, has 16 hours of solid, cut-to-the-chase, film info to help you launch your career.)
Welcome to Hollywood. But, hold on, that's Box Office Gross. The word Gross is not the word Profit…
So where do Profits come from?
Profits come from the 98-99 out-of-100 people, that didn't buy a ticket that weekend. They had something else to do. But they saw the ads and think "It's a movie" and "It costs $15″…
It now has a value of $15… Now it's a good deal to the Streaming Companies, the Cable Networks, the DVD buyers and Foreign buyers… Because it's a Movie and they're going to sell it, or rent it, or stream it at prices that range from $1-$5… It's on sale.
Got it… Plus, the On-Demand Companies are now streaming them (Premium Streaming), even before they're in cinemas with a marketing campaign of "Be the First to See"
Interesting!?
OLD HOLLYWOOD IS DEAD!
Just gave you some food-for-thought… Now here's a buffet-for-thought.
Point is "Old Hollywood", pre-pandemic, that was based on ticket sales, and social gatherings at theaters is over… There is a "New Hollywood" starting, and not just one that creates for the FAANG (Facebook, Apple, Amazon, Netflix, Google) streaming sites, but one that profits from ultra-low-budget ($200-300K), micro-budget ($50-100K) and no-budget ($10-30K) films.
Did you just see me say the word "films".
Forget Quibi… Think TikTok, Only Fans, Patrean… Then figure out how to adapt them to a revenue source from sites like "Pause.tv" and "Stitch72" for your films.
The studios ("Old Hollywood') will always exist but welcome to an alternative ("New Hollywood") platform, running parallel to with means of distributing and monetizing…. shorter indy films.
Happy Filmmaking
Dov Simens
LAUNCH YOUR FILM CAREER
My Streaming Film School will give you everything you need to Write, Produce or Direct your first independent feature film.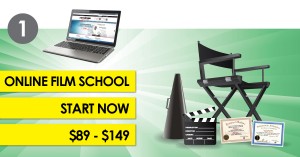 Join our E-Mail List
Keep Up to date (Click Below) … http://webfilmschool.us10.list-manage.com/subscribe/post?
*** NO BULL ***