SCREENPLAY CONTESTS (Careful, 72% of Them Are Scams. The Best 10 Are…)
by Dov S-S Simens on March 10, 2016
SCREENPLAY CONTESTS WORK… MAYBE?
Screenplay Contests come in 4 categories that are (1) They Suck & You're an Idiot for Entering, (2) They're Ego but it Helped You to Do a Re-Write, (3) They're Good & You Could get Hired & Optioned or (4) They're Great and You Have an Agent & Offers.
Be careful about Category 1 & 2. Submit to only 3 & 4. Now, permit me to explain the difference between excellent screenplay contests (3&4) and bogus script contests (1&2)
First, Script Contests, overall, offer a very good way for first-timers to gain access to Hollywood, Agents, Script Sales, Literary Options & Writer-For-Hire gigs… but you should be wary.
"Huh?"
Be wary of strangers bearing gifts.
"Huh?"
In the past 2 months I have received e-mails asking about Screenplay Contests and the Do's & Don'ts.
"Should I enter", "What do they cost", "How do I win", "What do I do if I win", "Should I hire a Consultant" and the best are…
"I won, they want me to sign something"
"I won, it's a $100K Sale, but I get no money. Huh Dov" 
"Dov, what should I do.. They want to buy it?"
Now some low-down on screenplay contests.
Be careful. A majority of them are slightly evil and prey on the naivete of first-timers. Now what do I mean by that.
There are globally 300-500 screenplay contests every year.
Do you know of a film festival that doesn't have one?
However, at the most, possibly 10-15 script contests have merit and are worth the entrance fee. Hope you just read that… "entrance fee", "submission fee" or "coverage charge".
Here's the bottom-line.
72% of Screenplay Contests "SUCK".
20% of Screenplay Contests are satisfying to your "EGO", get you good-but-expensive script coverage, which is positive, but inevitably lead nowhere.
5% are GOOD, but not great, but much better than nothing, so I'll say they're "OKAY".
2-3% are "GREAT".
72% of SCRIPT CONTESTS SUCK & 28% OF SCRIPT CONTESTS ARE OK-to-GREAT
Again, "what do I mean by that?" and which ones are you entering.
Lets talk numbers and the 72% that suck: There are 300-500 screenplay contests posted on the web every year and at least 200-300 (72%) of them are oriented to your vanity.
In the book industry, they're called "Vanity Press" publishers.
Anyone, who has written a book, can find a printer (aka: Publisher), who claims they're a publisher and will get your book to (A) all the critics, (B) garner reviews, (C) ship to wholesalers, and go on to claim that they actually (D) know agents, for your follow-up titles… and (E) have contacts in Hollywood who would like to make your book into a movie.
Sounds good but then comes the closing-line: "They're excited about working with you. They want to publish it but they'need a minimum of 300 copies to forward to reviewers, wholesalers, critics, agents & Hollywood."
You go "Oh". They continue, and when orders come in "you should have an inventory of a minimum 1,000 copies to supply".
You go "Oh" and ask "Uh. How much cost to print 1,300… or 1,500?"
The fake publisher/distributor then asks what size (9.5"x12" or 8"x10" or 6"x8", etc), photos, charts, graphics and do you want the cover 4-Color, glossy, embossed title, cover price ($8.95, $16.95, $22.95, $29.95, etc.)… Oh decision, decision, decision.
You then ask again but "I only have a little bit money…"
The fake publisher (aka: vanity press) then states "I like you. I believe in your project.  I can get you 2,000 copies at only $6/book."
You go "Uh. Oh. Thank you".
Now pencil that out 2,000 x $6 is $12,000.
You sign the contract, sell your 2005 Harley "Bad Boy" cycle, or pawn your Hummel Collection, forward a 25% deposit (non-refundable), with another 25% once you see a "galley", and the final 50% upon print approval.
Voilla…in three months you are out of pocket $12,000 and have 48 large Boxes piled high in your garage where your cycle used to sit.
Back to screenwriting.
Most, almost 72%, of screenwriting contests are very much like Vanity Press publishers and just want your entrance fee ($50-$200), tell you about obtaining some script analysis (aka: Coverage) to help your odds, which only costs $125-$250 and you have a very good chance of being in the top 3.
You are now out-of-pocket $175-$450.
They don't stop there… Next comes the "You need a professional consultant for a re-write to get it to Hollywood standards for submission to 100 buyers & agents"
You go "Oh" and ask "What does that cost?"
They respond with quotes of $2,000-$10,000 to include script registration and copyright.
You go "Oh… OK… Why not…"
And if they (Script Contest Promoter) can get 100-200 people to do that every year…they made some money…this is a good business. But of course they are not going to go to heaven…. And no one complains as they try to discern what to do with 48 boxes of books in their garage.
Please, be careful about Screenplay Contests that have (A) Entrance Fees, (B) Offers for Script Analysis and (C) Consulting Deals with (D) Ghost Re-Write Offers.
20% of SCRIPT CONTESTS ARE EGO SATISFYING.
Now, let's chat the Ego Satisfying Script Contests.
These are usually part of a Film Festival whose wealthy, artistic, philanthropic director(s), thought it a great idea to promote/sponsor a Screenplay Contest for it  gets local press, sells more tickets to the festival screenings, creates a photo op or two and most important has them feel like they truly are doing something for the local artistic writing community.
POI: I am absolutely not negative on these. I am just not very excited about them and winning one of these awards truly means very little to the real Producers, Buyers & Agents in Hollywood but it will motivate & validate you as a screenwriter.
These script contest charge a token $45-$75 for entrance and actually have (I never know who) people to read them and I imagine that that "reader" gets the $45-$75for his/her 2-3 hours of work.
The prize is usually $5,000-$10,000… in goods-and-services (no cash)… which usually is a $2,000 Consulting Award (service), a $750 out-dated Software Program (goods), a second $1,000 Professional Analysis Consultation (service) from someone who says "I'm a Hollywood pro and has contacts" (service), along with a gift of a $250 Canon/Sony/JVC/GoPro camera (goods) and a $250 Printer (goods), with a $500 years supply of ink/cartridges (goods)…but they promoted the winner gets $5,000-$10,000 in prizes… so they throw in $2,000 worth of On-Line Screenwriting Tutorials (goods) and (get this) an Agent (service) interview.
There is nothing wrong with these contests, as long as they only charge $45-$75 bucks, for it gets your script read… and I feel it will motivate you to do a solid re-write but nothing really happens with the award (ho-hum) winner which you will likely frame and hang in your guest bathroom.
5% of SCRIPT CONTESTS ARE OK-GOOD.
Now, how about the next 5%, which I say are "OKAY".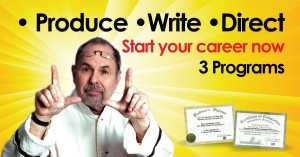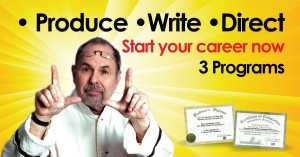 (My 3 affordable Film Programs ($89-$289) will get you the real information to launch your career in only 20-hours… Next live "2-DAY FILM SCHOOL" in Hollywood are April 23-24, Sep 17-18 or Dec 10-11.  DETAILS: www.WebFilmSchool.com)
These Script Contests are basically Facebook postings by Producers, who are not yet in the major Hollywood agent pipeline, and receive scripts from the agencies like WME, CAA, ICM, UTA, etc., who represent professional writers, but need to get everyday, non-represented people to send them their scripts….
…So, they come up with a "pseudo" screenplay contest in which the winning prize is actually cash.
$10,000-$50,000.
However, "IF YOU WIN", you don't get the $10,000-$50,000 instantly…
…you get a Congratulations E-mail, you sign a contract, and although the prize is supposed to be $10,000-$50,000 you only get a check for $2,000-$10,000 (20% option deposit) and, in essence, they, the creators (hustling producers) of this alleged script contest, have just discovered a "hot property" (which you paid them to read) and optioned it from you for 3-4 years with a nominal amount of money.
This type of screenplay contest, is just a promotion to get 100s, if not 1,000s of people to send them their scripts.
From the Producer's (Script Contest Promoter's) point of view this is a very good entrepreneurial way to get these 100s, if not 1,000s, of script submissions very cheaply from first-timers like you and, if one is great, the purchase (aka: option agreement) price will be very small.
These Screenplay Contests have some merit for it gets your script read by a real, although not powerful or wealthy, producer, and can have your property optioned.
Cool.
Another benefit, although indirect, from Script Contests, promoted by young but knowledgeable producers, is that they themselves have numerous ideas for movies and are constantly looking for inexpensive writers, who have shown that they have a gift for dialogue (aka: "A Good Ear") and now they have just read your script and discovered… (A) you know how to format properly, (B) you have an ability to tell-a-story and (C) your characters are unique (aka: "Believable Dialogue) then you have proven to have a "Good ear" and I almost guarantee you they will call you and want to hire you (pay-money) for a re-write or two.
This is how most writers, outside of the Hollywood or Manhattan arenas, get their first "paid" non-union writing assignment.
Now, let's get realistic. You are a first-timer. You might have written 3-4 scripts but none of them have been made. That means you're still a first-timer. You have an agent but not a "real agent" who has sold one of your 3-4 scripts in the past 4 years… so these contests appear to be the only thing available. They are not scams. They are not illegal. They are slightly mis-representative of what they are…but they are "OKAY", because you have very little other options.
2-3% of SCRIPT CONTESTS ARE GREAT.
So, "what about the 2-3%" & "Who the hell are they" are your queries now.
2-3% of 300-500 screenplay contests, or 5-15, are "GREAT".
And if you win or come in the top 3 of any of these 5-15 you will…
(A) Get a big check, (B) Still own your script and (C) Have a real agent (WME, CAA, UTA, ICM, APA, etc.) want to (D) Sell your script and (E) want to represent you as a writer.
Cool. This is what you want. But remember it exists in only 2-3% of the Script Contests.
So make sure you stay away from those 72% "vanity press" screenplay contests, enjoy the 20% ego contests, but don't get excited and hire them to be your re-write consultant and hope to be discovered in the 5% producer contests to obtain a non-union writing assignment…
Now on to the Top 10 Screenplay Contests.
The best Script Contests…. The top 2-3% where if you win, you get a check, you keep the money, you still own your script and you have a real Literary agent representing you and your project…
The Top 10 are….
NICHOLL FELLOWSHIP
DISNEY/ABC
SUNDANCE SCREENWRITERS LAB
FINAL DRAFT / BIG BREAK
SAMUEL GOLDWYN WRITING AWARDS
SCRIPT P.I.M.P
BLUE-CAT
TRIGGER STREET
SCRIPTAPALOOZA
Happy Filmmaking
COMMENT & SHARE:
If you've entered a Screenplay Contest please share the (A) Costs and (B) Results.
www.WebFilmSchool.com.
Real Facts. Real Knowledge. No-Bull.
Keep Up to date… Join our e-mail list.
http://webfilmschool.us10.list-manage.com/subscribe/post?u=313d0b336735c6d5fbf1a8e9d&id=2c55446523
 *** NO-BULL ***