HOT MOVIE PROPERTY: TRUE STORY (Part 2: How to Buy Hot)
by Dov S-S Simens on August 26, 2015
HOW TO BUY A TRUE STORY….
True stories have always been big business for Hollywood whether as a Movie or TV Special.
My last Post (HOT MOVIE PROPERTY: Part 1: "What is") described that as a first-timer you need to own a property (script, true story or book) that is super hot to break into the industry as a Producer. And the focus of my Post was on how to discern "What is a Hot Property"…
Now, this Post (HOT MOVIE PROPERTY: Part 2: "How-to") will detail, after identifying "what is hot" how to negotiate the Purchase Agreement and Option (have exclusive rights for a set period of time) the Hot Property for as little as $1.
LETS PROCEED: It's late at night. You're watching TV and let's assume you've just seen on the 11:00 News a story that you go "Now that's a Hot Story"…. and it is about a woman.
Television Network programmers love true stories about woman much more than about men. Why? Because men are busy watching sports, hunting, news and martial arts shows while women want to watch "a story" and, obviously, they would like to watch "a story" about "a woman".
Back to 11:00 News: The lead story (bigger than Trump, or Obama) is about a woman, who single handedly busted the Zimbabwe Elephant poaching ring, while destroying ISIS, as she Skypes the strategy to elect Donald Trump and gets Hilary & Bill imprisoned for Treason as she simultaneously Skypes instructions on a silicone injection into a Kardashian Butt.
Wow. This is one heck of a woman.
Plus, this story is gonna be Front Page newspaper headlines (NY Post, LA Times, Washington Post, USA Today, etc) for at leat 1-2 weeks more… Front Page everyday…
This is massive visibility. This is massive pre-marketing…This is a Hot Story.
And right there on the screen is (A) Her Name and (B) Her Hotel in Zambabwe… where she is staying
Duh?
Pick up the phone
Dial the hotel. When the receptionist gets on the phone leave a message to return call ("collect") to Bogus Name (but it's you) for a Bogus Reason (better be good) and I can never guarantee but I believe she will dial…
Now, when you get her on the phone.
(ONE) Compliment her
(TWO) Tell her that how important her story is and it should be made into a movie.
(THREE) Ask her who would be best to play her part… Jennifer Aniston, Angeli Jolie, Ronda Rousey?
(FOUR) When she humbly says who shockingly proclaim, "Amazing, I was thinking the same person."
(FIVE) Continue with, "Wonderful I have direct contacts with her company." (Welcome to Hollywood)
(SIX) Next tell her the story is so important that time is of the essence and you need some sort of good faith agreement so she can talk with Jennifer or Angeli's people.
(SEVEN) Yadda – Yadda – Yadda… You'll figure out what to say next…. But, make sure you Own the Rights or have Exclusive Rights
(EIGHT) Tie Up the rights with a Purchase Agreement (only do a down payment of 1%, 10% 25%)… which actually becomes called an Option Agreement…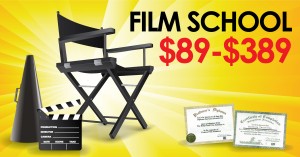 "DVD, 2-DAY & ONLINE Film Schools"
Enough about this vicarious conversation… you'll figure out how to do it.
If you can't… Then you're not a Producer.
Point: If you desire to break into the film or tv industry with a movie, sometimes just called a story, then you must own something and many-many times merely writing and owning a script is not enough.
You must own something… "Important Point"…that is marketable.
You must own something that already has exposure and visibility to the viewer-consumer… and that is called a T-R-U-E  S-T-O-R-Y.
So, lets get the rights to a True Story" but not your sister or great aunts story, no matter how amazing to you it might be, this is your sister or your aunt and no one has heard of them and it has no pre-marketing visibility to it.
But a story (True Story) of a woman who has just made headlines in the news, especially being the leadoff story in the 11:00 news, and is going to be on the 11:00 news for 1-3 weeks… Wow, this is marketable… especially if there is something salacious surrounding the story.
(A) The woman in Jail who helped the prisoners escape…. (that's a story)
(B) One of the 32 Crosby girls repped by Gloria… (these are stories)
(C) The female Astronaut caught in a Love Triangle
(D) The West Virginia Newswoman who was murdered on camera.
One of these stories happen every month… and maybe the story happens, and it is in your neighborhood, then get off the couch and get right over to her house or apartment… and if you can't talk to her directly… then get the rights to the story from her mother's point of view, or a sister's point of view, or a girl friend's point of view… but get the rights
10 MAJOR PURCHASE AGREEMENT DEAL MEMO POINTS
Now when negotiating (another phrase for chatting) with the person here are the first ten items, sometimes called Deal Memo Points, to discuss for your eventual (what you are negotiating or chatting) Option Agreement or Purchase Agreement…
*It is usually called a "Purchase Agreement", but since you are only going to give the person a deposit, a down payment, usually 1%-25% of the Purchase Price and you want to own the option-to-purchase the story exclusively for a set period of time, then it is now called an "Option Agreement".
Below are the 9 Major Deal Memo Points to discuss and negotiate.
(ONE) PURCHASE PRICE is?
(TWO) OPTION PRICE is?
(THREE) OPTION PERIOD is?
(FOUR) Is OPTION PRICE to be applied to PURCHASE PRICE?
(FIVE) RENEWAL PERIODS are?
(SIX) PAYMENT SCHEDULE is?
(SEVEN) OPTION PRICE to be applied to PURCHASE PRICE…
(EIGHT) OWNERSHIP is?
(NINE) TITLE CREDITS are?
(TEN) WRITING CREDITS are?
DOV S-S SIMENS / Dean / Hollywood Film Institute
OPTION A STORY  or a SCRIPT FOR $1
(A) Talk Purchase Agreement. But it really will be an Option Agreement that for a set period of time only you have exclusive rights to the story.
(B) Talk the details
(B-1) How much money? Answer: $1,000,000
(B-2) How long is the Option? Answer: 24 Months
(B-3) How about Extensions or Renewals? Answer: Yes, another 24 months.
(B-4) What is Option Price (aka: Downplayment)?: Answer $1? $10$ $100? $1,000? $10,000?
(B-5) Okay, I'll give you $1,000,000 but I need an 18-month option for $1 ($10? $100? $1,000?) and you receive the remaining $999,999 upon Commencement of Principal Photography.
Welcome to Hollywood and enjoy watching the 11:00 News…. but you are now a Producer and watch the news thinking "True Story".
Plus, once you have the True Story and want to know what to do or you need more info on Optioning True Stories then you will enjoy any of my 3 Film Programs (DVD, On-Line or 2-Day).
Happy Filmmaking,
Dov S-S Simens
Keep Up to date… Join our e-mail list.
http://webfilmschool.us10.list-manage.com/subscribe/post?u=313d0b336735c6d5fbf1a8e9d&id=2c55446523
 *** NO-BULL