ICM: Agency #3 (25 Agents, Names & Numbers)
by Dov S-S Simens on July 1, 2015
ICM ("International Creative Management") the 3rd Largest Agency Captures Niches

HISTORY:
ICM Partners (new official name) is one of the Big 6 talent agencies, actually the 3rd largest, with offices in New York, Washington DC (very interesting), New York and London.
ICM, a relatively new agency, was formed in 1975 through the merger of Creative Management Associates and International Famous Artists. In 2005 the company raised equity financing to fund growth and in 2006 the agency acquired a leading literary agency, Broder Webb Chervin Silberman and placed strong focus on both screen writers and book authors. In 2012 the agency completed a management buyout and formed a partnership with the new name ICM Partners.
ICM has excellent agents in the Talent & Literary divisions and has focused a little more on the TV Packaging business, handling Executive Producers and ShowRunners along with a very strong Book Publishing department and its ensuing offshoots – adaptations for Motion Picture projects.
ICM also has a division that handles Below-The-Line talent to include Cinematographers, Editors, VFX Artists & Production Designers.
Just last year ICM repped 6 Oscar nominees and 18 Emmy nominees. Plus it booked almost 40 clients on Broadway or Off-Broadway productions and over 70 clients on TV pilots.
PRESENT LEADERS & FOUNDERS: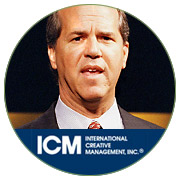 JEFF BERG: Today the agency is lead by both Jeff Berg (CEO, see above), Chris Silberman (President), one of the original founders Greg Chun (Chief Info Officer), Dan Donahue (Chief Operating Officer) & Richard Levy (General Counsel)
BIGGEST TALENT CLIENTS:
Oscar Winners Al Pacino, Christopher Waltz, William Hurt and Dianne Wiest…. Oscar nominees Abigail Breslin, Frank Langella and David Strathairn…. Emmy winners Eric Stonestreet, Kelly MacDonald, Ray Romano and James Spader… Emmy nominees Kevin Dillon, David Duchovny, Christina Ricci, James Belushi and Michael Keaton…. Film & TV Stars Zoe Slandana, Tom Huddleston, Josh Duhamel, Sally Hawkins, Zachary Levi, Julia Stiles, Paul Wesey and Jordan Spiro.
BIGGEST TV PRODUCING CLIENTS:
ICM also repped a massive, enclave of TV Producers, Executive Producers and Show-Runners… while also packaging many successful tv series to include… "Grey's Anatomy", "The Black List", "The Big Bang Theory", "Dancing with the Stars", "Modern Family", "Cougar Town", "House", "Breaking Bad", "Mike & Molly", "America's Next Top Model", "Kitchen Nightmares" "Army Wives", "Sex and the City", "Sons of Anarchy", "Two and a Half men",  "Frasier", "Scrubs" and "X-Files"…
WANT AN ICM AGENT?    CONTACT DETAILS.
ICM (Los Angeles):  ADDRESS:  10250 Constellation Blvd, Los Angeles, CA 90067   (PHONE: 310-550-4000)
ICM (New York):  ADDRESS: 730 Fifth Ave, New York, NY 10019 (PHONE: 212-556-5600)
25 ICM TALENT AGENTS:
Lorrie Bartlett (Co-Head), Dar Rollins (Co-Head), Carol Bodie, Leigh Brillstein, Carter Cohn, Andy Coleman, Justin Deanda, Logan Eisenberg, Joe Funicello, Laura Gibson, Jck Gilardi, Hildy Gottlieb, Phillip Grenz, Iris Grossman, Toni Howard, Chuck James, Brian Mann, Nigel Meijas, Andrew Rogers, Craig Shapiro, Dana Sims, David Unger & Meredith Wechter
Reality Check:
Yes, you've heard "they won't take your call". More than likely that is correct. But what I do know is if you don't call they DEFINITELY won't take your call.
Now, Producers are salesman. Lets see how good you can sell. Phone ICM, get the receptionist on the phone & sell… Let's see how good you are.
Can you get him/her to forward you to someone at ICM, which will be a fledgling just out of the mailroom, where no one has a desk, who is so happy to have a desk and let's see how good a salesman you are…
All I know is that something-leads-to-something and nothing-leads-to-nothing.
Happy Filmmaking
Dov S-S Simens / Dean / Hollywood Film Institute
For more detail my Streaming Film School and DVD Film School are available at www.WebFilmSchool.com.
Keep Up to date… Join our e-mail list.
http://webfilmschool.us10.list-manage.com/subscribe/post?u=313d0b336735c6d5fbf1a8e9d&id=2c55446523
 ***** NO-BULL