UTA: AGENCY #4 (30 Agents, Names & Numbers)
by Dov S-S Simens on July 8, 2015
 UTA ("United Talent Agency") is the 4th largest Motion Picture/TV/Cable agency in the world with only 2 offices but over 2,700 staff/agents.

HISTORY:
UTA was founded in 1991 as the result of a merger between two literary and talent agencies, the Bauer-Benedek Agency, headed by partners Marty Bauer, Peter Benedek and Jeremy Zimmer, and the Leading Artists Agency, formed by partners Jim Berkus and Gary Cosay. UTA seemed well positioned for success by bringing the best agents in from a variety of agencies. Their first packages on shows included hits like The Simpsons, Married…With Children, and The Wonder Years. Others represented by the agency included movie writer/directors Lawrence Kasdan, Brian De Palma, Steven Soderbergh, and brothers Joel and Ethan Coen; Seinfeld creator/writer Larry David; and actors Mike Myers, Bridget Fonda, Alan Alda, and Charles Grodin. As its business grew, the firm soon began to add agents to the 26 it started with.
By the mid-1990s, UTA had grown to over 50 agents and was considered an upstart challenger to the larger, more established firms such as the William Morris Agency and Creative Artists Agency. The agency, which was formed to focus primarily on writer clients, soon established a roster of talent clients working in film and television. UTA's then-representation of comedian Jim Carrey led the actor become the first star to be paid a $20 million upfront salary for a motion picture, which he received for "The Cable Guy."
In June 1996 UTA's partners named Marty Bauer and Jim Berkus co-chairmen, with Bauer also named president. In 1998 Bauer left the firm to found the Bauer Company, a management company, leaving UTA to be run by a board of six senior partners led by chairman Jim Berkus.
By the late 1990s, UTA began expanding the firm's core practice areas to include music, corporate consulting and video gaming. In 1998, UTA expanded its talent operations with the addition of Tracey Jacobs, a top talent agent from International Creative Management, who joined UTA as a partner and brought with her clients including Johnny Depp, William Petersen, Joan Cusack, Jennifer Jason Leigh, Vincent D'Onofrio and director Mark Pellington.[3]
In late 1999, UTA clients, actor William Petersen and producer Cindy Chvatal developed CSI along with writer/creator Anthony Zuiker. The CSI television franchise is among the most successful in television history, domestically and internationally airing in over 200 countries around the world. UTA continues to benefit from the series' package fee.
In September 2001, UTA made its official foray into the music business, hiring veteran music agent Rob Prinz who had previously spent 11 years as a music agent at Creative Artists Agency and, prior to that, eight years as head of east coast contemporary music operations for the William Morris Agency. The addition of Prinz put the agency into the music booking and touring business, and also added recording artists, such as Grammy-winner Celine Dion, to the agency's client roster.[4]
In fall of 2006, UTA became the first major agency in the broadband era to launch a dedicated online division to identify and represent emerging internet content creators.[6] The division was led by UTA digital media agent Brent Weinstein. Clients like Ask a Ninja, We Need Girlfriends and Big Fantastic became early leaders in the digital space.[7][8] In July 2007, UTA and the Internet-based advertising agency Spot Runner announced they were launching an independent studio for digital entertainment from professional actors, directors, writers and producers called 60Frames Entertainment.[9] 60Frames produced over 50 original Internet series before the company shut down operations in May 2009 due to the economic collapse.
In September 2007, UTA announced the formation of United Entertainment Group, a joint venture firm formed with veteran advertising executive Jarrod Moses. The New York City-based firm focuses on six practice areas, branded entertainment, integrated media, brand development, property development, multi-cultural marketing and live event creation. The firm is led by CEO Jarrod Moses with approximately 35 employees working in its New York and Beverly Hills offices. Key clients of UEG include Procter & Gamble, Frito-Lay, AT&T, Starbucks, LG Electronics, Nestlé, Williams-Sonoma, Inc., Pottery Barn, Pottery Barn Kids, Build-A-Bear, Diageo, Avon/Mark Cosmetics, and Queen Latifah, Inc
In February 2008, UTA hired Michael Camacho, formerly the head of Creative Artists Agency's reality television division, to head UTA's growing alternative television department and to join the UTA partnership, bringing most of his high profile clients.
In May 2008, longtime talent partner Tracey Jacobs and longtime motion picture partner David Kramer were elevated to UTA's Board of Directors, making Jacobs among the highest ranking female agents in the industry.[14] The same month saw Mitchell Gossett, one of the industry's top youth agents, depart the Cunningham Escott Slevin Doherty agency to join UTA's talent department and bolster the agency's burgeoning youth representation business. Gossett brought with him clients including Taylor Momsen, Victoria Justice, Miley Cyrus, and Chelsea Kane.[15] In the fall of that same year, Jacobs added Oscar-nominated actress Gwyneth Paltrow and actress-recording artist Jennifer Lopez to the agency's client list.
In October 2008, longtime William Morris Agency talent agent Theresa Peters joined UTA as a partner and co-head of the Talent Dept, bringing along such clients as Kirsten Dunst, James McAvoy and Jeffrey Dean Morgan. And, in April 2009, senior William Morris agent Steve Rabineau joined UTA as a partner and motion picture literary agent. Rabineau had been one of the founding partners of the Endeavor agency. In 2004 he left Endeavor, along with fellow founding partner David Lonner, to join the William Morris Agency. In joining UTA, Rabineau brought his clients, including filmmakers Alfonso Cuarón, Phillip Noyce, Don Roos, Craig Gillespie, Todd Graff, John Amiel, Sergei Bodrov and Eric Brevig
In October 2009, UTA hired veteran film finance executive Rena Ronson to co-head its Independent Film Group along with UTA partner Richard Klubeck. Ronson had been co-head of competitor William Morris Independent for more than a decade and was one of the industry's highest profile film agents. The hiring was considered a strategic move to grow UTA's film finance and international sales business.
In summer of 2010, UTA announced an expansion of its partnership. The 24-member partnership now included the agency's six Board members, Jim Berkus, Peter Benedek, Tracey Jacobs, David Kramer, Jay Sures, Jeremy Zimmer, as well as partners Jeremy Barber, Michael Camacho, Andrew Cannava, Dan Erlij, Wayne Fitterman, Lisa Jacobson, Rich Klubeck, Blair Kohan, Billy Lazarus, Theresa Peters, Steve Rabineau, Matt Rice, Shani Rosenzweig, Larry Salz, Howard Sanders, Julien Thuan, and recently promoted partners Jason Burns and Brett Hansen
In late January 2012, the Deadline.com blog reported that Jeremy Zimmer, a co-founder and managing director of the agency, had been elevated to Chief Executive Officer of UTA. The article quoted Zimmer as saying he took on the role of CEO to more easily engage in business development beyond the traditional scope of film and television and "as the company reaches outside its traditional business into finance, international and digital." The article stated that Jim Berkus would remain Chairman of the agency.
UTA continued to add to its ranks, despite the resignation of reality television partner Michael Camacho in October 2011 who left to pursue other business interests in the wake of a personal legal issue.[21] The same month, television literary agents Mickey Berman and Josh Hornstock defected from their longtime agency International Creative Management to join UTA. The move was described a major move in the TV literary representation area. The duo had previously been employed at the well-regarded boutique television agency Broder Webb Chervin Silbermann agency that was acquired by ICM in 2006.[22] Berman and Hornstock were made partners of UTA and brought their extensive list of creators, writers and producers to UTA.
UTA expanded its six-member Board of Directors to seven members in May 2014 with the promotion of longtime UTA partner Matt Rice. Rice had joined the agency in 2002 from the Broder Webb Chervin Silbermann agency, a boutique television agency specializing in writers and producers. Rice was promoted to the UTA partnership in 2004 and named head of the television department in 2008 overseeing the agency's scripted television business in broadcast, cable and syndication. With Rice's promotion the full UTA Board now comprised chief executive officer and co-founder Jeremy Zimmer, chairman and co-founder Jim Berkus, managing director Jay Sures, managing director David Kramer, director and co-founder Peter Benedek, director Tracey Jacobs and director Rice.
Beginning on March 31, 2015, twelve agents in the CAA comedy department left to join UTA, bringing along comedy clients such as Will Ferrell, Chris Pratt, Ed Helms, Zach Galifianakis, and Sarah Silverman.[26][27] Five of the agents were immediately made partners, including Jason Heyman and Martin Lesak – who were originally with UTA
 LEADERS:
James Berkus is the CEO – Chairman of the Board.
The other 5 Board of Directors/Partners/Agents 9The Power Brokers) are Peter Benedek, Tracey Jacobs, David Kramer, Jay Sures,  and Jeremy Zimmer.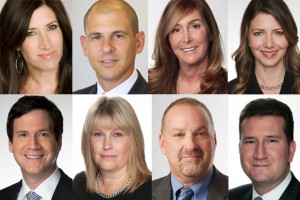 The above are agents promoted to new partners to UTA (Marisa Devins, Nancy Gates, Peter Goldberg, Ramses Isi-Hak, Rena Ronson, Leslie Schuster, MIchael Sheresky and Brett Weinstein)
CLIENTS:
TALENT/ACTORS: Johnny Depp, Angelina Jolie, Susan Sarandon, Harrison Ford, Owen Wilson, Michael Douglas, Gwyneth Paltrow, Channing Tatum, Kevin Hart, Edward Norton, Paul Giamatti, Anthony Hopkins, Ross Lynch, Barbra Streisand, Diane Lane, Ewan McGregor, Tilda Swinton, Benedict Cumberbatch, Seth Rogen, James McAvoy, Paul Rudd, Don Cheadle, Elizabeth Banks, Kirsten Dunst, Uma Thurman, Skylar Astin, Martin Lawrence, Simon Pegg, Bryan Cranston, T.I., Patrick Dempsey, Mark Ruffalo, Diane Kruger, Ice Cube, January Jones, Anna Kournikova, Keenen Ivory Wayans, Jennette McCurdy, Daniel Radcliffe and Dane Cook;
LITERARY/PACKAGING:  Joel and Ethan Coen, Judd Apatow, Andrew Adamson, Wes Anderson, John August, Noah Baumbach, Brad Bird, Alfonso Cuaron, Julian Fellowes, Curtis Hanson, Asghar Farhadi, Peter Morgan. Mike White, F. Gary Gray, Lasse Hallström, Greg Mottola, Jimmy Hayward, Adam Shankman, Phillip Noyce, Nicholas Stoller and Sylvain White, Bryan Bertino;
TV PRODUCING:  Darren Star, David Chase, René Balcer, Alan Ball, Tom Fontana, Steven Levitan, Chuck Lorre, Carter Bays & Craig Thomas, Tom Forman, SallyAnn Salsano, Shane Dawson, Ha Ji-won, and Action Movie Kid creator Daniel Hashimoto
ADDRESS: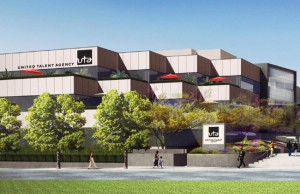 In summer of 2011, the agency announced that it was opening an office in New York City that would be staffed with agents from its Beverly Hills offices as well as new agents. The New York office would handle UTA's expanding theatre practice and also work on the agency's television, motion picture, licensing and endorsements business.[31]
In fall of 2011, the agency also announced plans to move its global headquarters to a new Beverly Hills location.[32] After 20 years in the "Golden Triangle" district of Beverly Hills, UTA signed a long-term lease to occupy more than 120,000 square feet at 9336-9346 Civic Center Drive office complex, which would be renamed UTA Plaza, in a developing area of Beverly Hills which was already home to media and entertainment companies such as YouTube, Netflix, Live Nation and Relativity Media. The agency engaged the architectural firm Rottet Studio to build a state-of-the-art interior with amenities including an all-digital screening room. UTA announced it would move its more than 350 employees in late 2012.[33]
In September 2012, following a year-long renovation rumored to have cost upwards of $30 million, the agency moved into its new UTA Plaza headquarters.[34] Among the notable features was the new 165-seat, all-digital screening room, which uses a 4K Barco system capable of active 3D and high frame rate (HFR) projection of films
LOS ANGELES: 9560 Wilshire Blvd, Suite 500, Beverly Hills, California 90210  (TEL: 310-273-6300)
NEW YORK:  888 7th Avenue, New York, NY 10106 (TEL: 212-659-2600)
AGENTS:
PARTNER/AGENTS: Jason Burns, Michael Camacho, Andrew Cannava, Dan Erlij, Wayne Filterman, Brett Hansen, Lisa Jacopbson, Rihard Klubeck, Blair Kohan, Billy Lazarus, Theresa Peters, Steve Rabineau, Matt Rice, Shani Rosenzweig, Larry Salz, Howard Sanders & Julien Thuan
AGENTS (just the letters D-F): James Degus, Marissa Devins, Barbara Dreyfuss, Gueron Ducoly, Kassie Evashevski, Rebecca Ewing, Haidi Fegan, Jacob Fenton, Sara Fernstrom, Charlie Ferraro, Steven Fisher, David Flynn, Peter Franciosa, Paula Friedman….
Now, it is up to you… The saying is "You can lead a horse to water but you can't make 'em drink".
Welcome to Hollywood.
Dov S-S Simens / Dean / Hollywood Film Institute
PREVIOUS AGENCY BLOGS #1, #2, #3
CAA (AGENCY #1): https://www.webfilmschool.com/caa-agency-1-contacts-names-numbers/
WME (AGENCY #2): https://www.webfilmschool.com/wme-agency-2-25-contacts-names-numbers/
ICM (AGENCY #3): https://www.webfilmschool.com/icm-agency-3-25-agents-names-numbers/
If questions,,, my NO-BULL "Streaming", "DVD" and "Live" Film Schools are available at www.WebFilmSchool.com.
Keep Up to date… Join our e-mail list.
http://webfilmschool.us10.list-manage.com/subscribe/post?u=313d0b336735c6d5fbf1a8e9d&id=2c55446523
 ***** NO-BULL