WME: Agency #2 (25 Contacts, Names & Numbers)
by Dov S-S Simens on June 24, 2015
WME Agency is 2nd largest in the world… and trying harder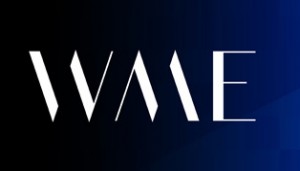 WME HISTORY:
Proper name is William Morris Endeavor. It was merely just William Morris but merged in 2009 with a second agency Endeavor and it was called WME2 and now just WME.
The agency was started in 1898 by a German immigrant, William Morris (aka: Zelman Moses), who represented Vaudeville Acts and during the silent film era Mr Morris and his agency represented Charlie Chaplin, Mae West, the Marx Brothers and Al Jolsen.
In 1930 Mr Morris sr turned over the agency to his son and passed away in 5 years during which time his son relocated the agency to California, first at Hollywood & Vine and then Beverly where it is still today.
In 1949 the agency purchased the Berg-Allenberg and added Frank Capra, Clark Gable & Judy Garland to its roster with clients that already included Sammy Davis Jr, Milton Berle & Rita Hayworth.
With the arrival of television, William Morris was the first agency to capitalize on it for it's clients and now represented Bill Cosby, Andy Griffith, Dick Van Dyke, all tv stars, as well as movie stars like Jack Lemmon, Katherine Hepburn, Walter Matthau, Steve McQueen, Marilyn Monroe, Kim Novak, Elvis Presley & Frank Sinatra,
William Morris, never standing still with complacency, now ventured in the '50s & 60s into the music business and became a powerhouse by representing The Rolling Stones, The Beach Boys, Sonny & Cher and the Byrds and in 1973 the agency was the first to establish a Nashville office.
Today, post 2000, the agency had it's first true crisis as fellow agents George Lane and Mark Cardonick left to open CAA (today's largest agency in the world) was founded along with Michael Ovitz, Ron Meyer, William Haber, etc., but bounced back in 2009 with a merger with boutique agency Endeavor and formed today's WME in the former Endeavor office on Wilshire Blvd.
Like CAA, WME has had a massive infusion of equity capital from Private Equity Firm "Silver Lake Partners" and has used the cash, like CAA, to get into the sports promotion and marketing business by buying IMG.
THE MAILROOM at WME
HOT TIP: Secret way to get into Hollywood (I'm sure you've heard about it, now try it) and become an Agent (this is where you start), and then a Development Executive, or a Producer… that is assuming you're not making millions as being an agent
AGENT TRAINING PROGRAM: Great Tidbit of info. The "mailroom" is actually a phrase used at William Morris for it's in-house agency training program…which is a superb way to learn the business and become a deal-maker, assuming you have amazing personal skills & a super-human work-ethic & are blessed with being an amazing salesman.  PS. Why not phone William Morris Endeavor (see number below) and apply to the training program, move to Beverly Hills and start dealmaking (Note: It ain't gonna be that easy)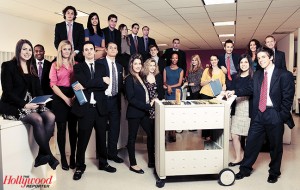 You start off in the basement with 20-30 other Phi Beta Kappa grads. You literally go office-to-office and deliver the mail… and you are in hopes that within 4-months you get an actual desk, and become Assistant #2, with an agent.
WME SMART ELEVATORS:
Where CAA has over 5,000 Agents & Employees, WME, being #2, has about 4,000 Agents & Employees and is the only agency with "smart elevators".
Duh? Huh? I am not going to explain what "smart elevators" (ADD sidebar) are but when you take your project and go to the Beverly Hills office, walk past the lobby's receptionist, where you query about WME floor number and you press that floor on the elevator button what occurs will "make you stupid".
Oh, I got it they purposely put in elevators, called smart, that actually make you dumb, and now you are ready to be taken advantage of at a meeting…. very interesting.
Confused… Next time in Beverly Hills, park your car, and walk to 9601 Wilshire Blvd (you'll quickly find the door is not on Wilshire… very interesting), Beverly Hills, CA 90210 and walk inside an press a button on the elevator… I promise "you will feel dumb".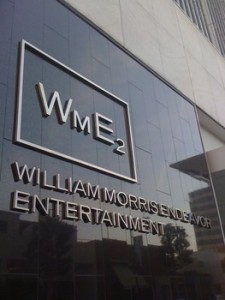 PRESENT OWNERS:
Silver Lake Partners
PRESENT LEADERS:
Ari Emmanuel (Co-CEO) & Patrick Whitesell (Co-CEO)
BIGGEST CLIENTS:
Ben Affleck, Charlize Theron, Tina Fey, Rihanna, Maria Sharapova, Gisele Bundchen. Plus men like Ed Burns, Steve Carell, Tim Allen, Vin Diesel, Snoop Dog, Billy Idol, Ben Stiller, Michael Strahan, Denzel Washington, Forrest Whitaker…. and women like Angela Bassett, Carol Burnett, Kathie Lee Gifford, Diane Lane, Queen Latifah, Mandy Moore, Emma Stone, Wanda Sykes, Betty white and….
PRESENT BUSINESS:
Besides Film, TV, Music, Speakers & Commercials; WME has expanded with purchases of "Droga5" (ad agency), "MADE Fashion Week", "Global eSports Management", "ICON Sports Management", "Artist Voice" and "Professional Bull Riders Assn". WME has even invested in Uber and by far it's largest investment/purchase has been by buying acquiring IMG.
WANT A WME AGENT?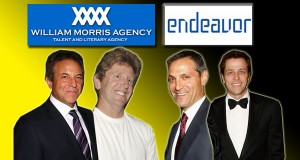 ADDRESS & CONTACT INFORMATION FOR WME….
(ONE) HOLLYWOOD: 9601 Wilshire Blvd, Beverly Hills, CA, 90210 (TEL: 310-285-9000)
(TWO) MANHATTAN: 1325 Avenue of the Americas, New York, NY 10019  (TEL: 212-586-5100)
(THREE) FLORIDA: 119 Washington Ave, Suite 400, Miami Beach, Florida, 33139  (TEL: 305-938-2000)
(FOUR) ENGAND: Centre Point, 103 New Oxford St, London, WC1A  (TEL: 44-20-7534-6800)
(FIVE) TENNESSE: 1600 Division St, #300, Nashville, Tennessee, 37203  (TEL: 615-3000)
25 HOLLYWOOD WME AGENTS (MOTION PICTURES):
Danny Greenberg (Head, Motion Pictures)
Jason Spitz (Head, Motion Pictures)
David Wirtschafter (Head, Motion Pictures)
Adrianna Alberghetti, Kimberly Bialeck, Rob Carlson, Daniel Cohan, Rich Cook, Philip d'Amecourt, Chris Donnelly, Michael Esola, Simon Faber, Ashley Fox, Daniel Gobai, Jeff Garin, Roger Green, Elia Infascelli-Smith, David Karp, Craig Kestel, Charles King, David Lubliner, Robert Newman, Phillip Raskind, Cliff Roberts, Sarah Self, Mike Simpson, Alex Yuracian….
Happy Filmmaking
Dov S-S Simens / Dean / Hollywood Film Institute
For more detail my Streaming Film School and DVD Film School are available at www.WebFilmSchool.com.
Keep Up to date… Join our e-mail list.
http://webfilmschool.us10.list-manage.com/subscribe/post?u=313d0b336735c6d5fbf1a8e9d&id=2c55446523
 ***** NO-BULL