by Dov S-S Simens on February 9, 2020
HOLLYWOOD MOVIE AGENTS
No-Bull! Yes you need an agent.
Yes you need a movie agent that knows how to sell scripts, hire writers, attach bankable actors, create movie packages, take meetings with deal-makers and power-brokers and help with financing via pre-selling, etc.
And the secret to securing a true Hollywood agent is to retain a powerful Hollywood attorney and literally buy your way into the system.
However, to succeed,
17 Comments
Want to make a successful independent film?
Join my email list and get my free weekly advice on screenwriting, financing, shooting, producing, and much more!
100% privacy! I will never spam you.
by Dov S-S Simens on January 21, 2020
WANT TO DIRECT?
Then Select One of These Dates (April 4-5, August 8-9 or December 5-6, 2020)
Directing is easy when you know the basic nuts-and-bolts.
Get a script. Keep It Simple. 90-pages. Real Time. Pick a location. Cast actors. Get a Camera. Hit On-Button. Say "Action". Wait 90-minutes. Say "Cut". You got a movie… Why make it difficult?
Yes, there is more… much more… but let's start with the basics…
2 Comments
by Dov S-S Simens on December 28, 2019
THE $20,000-$50,000 FEATURE FILM:
Producing and directing a feature film today is so affordable I always ask myself "Why aren't more doing it?"
Why?
50, 40, 30 even 20 years ago the only format available to make a film was to buy, shoot and expose film stock, 35mm or 16mm, from Kodak/Fuji/Agva and rent a Panavision or Arriflex camera package with the minimum cost for film stock and lab alone was $50-100K for a low-budget film.
4 Comments
by Dov S-S Simens on November 25, 2019
WANT TO DIRECT?
GOT 2-MINUTES?
LEARN THE SHOT SECRETS
Want to Direct? Then learn the Directing basics.
Making a Movie is like building a building. After the Blueprint (aka: script) build the floor & walls… how you design the floor & walls is what's called "style" or "art" and I can't teach "art" or "style" but pour the foundation, get the floor, then put up the walls and you're building.
Now,
15 Comments
by Dov S-S Simens on November 18, 2019
THE 1-WEEK MOVIE: The Budget ($20-30K), Script (90-pages), Shoot (7-Days), Crew (5-7 Keys) & 1 Hot Tip.
If you can come up with $20,000-30,000 (which you can…pvt placement, offer 50%, 10 units, 5% each @ $2-3K each…) then make a movie… but please (I beg you) don't make a short… no one buys shorts (Duh).
Make a feature film but get realistic.
By realistic I mean, when Hollywood (6 studios) states that the average low-budget movie budget is $15-20M,
No Comments
by Dov S-S Simens on October 3, 2019
POWERFUL MOVIE AGENTS:
(William Morris Endeavor, Creative Artists Agency & International Creative Management are mega-packaging agencies)
What is a Packaging Agent and how is it different from a Talent Agent or a Literary Agent?
Simple. Packaging Agents get 5% commission.
Talent & Literary Agents get 10-15% commission.
So why would anyone want to be a Packaging Agent?
No Comments
by Dov S-S Simens on August 24, 2019
FILM FESTIVALS and DEAL MAKING
For a filmmaker, with an independent film, the purpose of a Film Festival, other than social validation, is to demonstrate to distributors (assuming their Acquisition Executives are in attendance) that your film is (A) Marketable, (B) Sells Out screenings, (C) Makes Money, (D) most important, has "Buzz"…. so you may get some cash (E) to pay back your investors and (F) launch your career.
Straight. Honest. To-the-Point.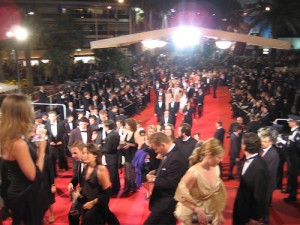 (Enjoy the premiere but make sure the Acquisition Executives are in attendance)
(A) MARKETABLE: You're accepted to Sundance,
82 Comments
by Dov S-S Simens on August 21, 2019
STEALING MOVIE IDEAS
OK. OK. You've read Hollywood is looking for the great idea…and Yes, you have it.
However, your idea is just a thought… it's not a finished script, it's not even a Treatment… it's just a thought. But you ran into someone at Starbucks (Brentwood, NoHo or WeHo) told them your great idea with the person remarking "You know who would like that…?"
Fast forward two-weeks, and reading Variety you see an article about what a Studio is about to make and you go "OMG…
14 Comments
by Dov S-S Simens on August 7, 2019
What's a Producer? The 5 Types.
The average studio feature film now has 15-20 producers in various forms attached. Just look at the opening title credits and count. And the questions you ask are simple.
First: Why?
Second: What the heck do each of 'em do?
Permit me to answer in my simple, no-bull, common sense manner. But let's start from the beginning.
So you want to produce?
3 Comments
by Dov S-S Simens on July 27, 2019
GOT A MOVIE IDEA… BE CAREFUL!
Ideas, and especially movie ideas, are a dime-a-dozen… and I know that you're absolutely sure that yours is great and worth at least a million bucks when compared to what ideas Hollywood uses to make movies…
And "Yes great movie ideas are rare."
But beware, even if you have a great idea, a variation of one of Shakespeare's "20 Master Plots" or an amazing twist on Joseph Campbell's "The Hero's Journey"
No Comments