by Dov S-S Simens on August 28, 2015
LOW BUDGET MOVIES FINANCED WITH CREDIT CARDS
When financing your 1st feature film… Although several speakers teach the cuteness of making a movie utilizing credit cards (as if they're free) I beseech you "Don't" "Don't" Don't". Now permit me to explain why Funding your 1st feature film, especially Micro-Budgets, with 1-10 credit cards is a very bad idea.
Below is a very slick article (Click & View it) titled "HOW LOW BUDGET FILMS GET FINANCED"
1 Comment
Want to make a successful independent film?
Join my email list and get my free weekly advice on screenwriting, financing, shooting, producing, and much more!
100% privacy! I will never spam you.
by Dov S-S Simens on August 26, 2015
HOW TO BUY A TRUE STORY….
True stories have always been big business for Hollywood whether as a Movie or TV Special.
My last Post (HOT MOVIE PROPERTY: Part 1: "What is") described that as a first-timer you need to own a property (script, true story or book) that is super hot to break into the industry as a Producer. And the focus of my Post was on how to discern "What is a Hot Property"…
3 Comments
by Dov S-S Simens on August 24, 2015
What is a hot story?
A Hot Property: Hollywood wants Hot Stories.
To become a player, a dealmaker in Hollywood, of course you need talent (doesn't everyone think they have it), but more important, other than money (money which will always get you meetings), what is needed is the "ownership" of a "hot property" and a "hot property" could be a script, a book, a video game, a popular song… and by far the best-cheapest is to own a "True Story".
No Comments
by Dov S-S Simens on August 21, 2015
HOLLYWOOD UNIONS: The WGA, DGA, SAG & IATSE 
(Movie Union Secrets, Misbeliefs & Tricks)
Independent Filmmakers (like you) and Independent Film Companies (like yours) do not have to hire union Actors, Writers & Directors (there is no law in America that states you must) for you have not become a "signator" of each of the guilds and union basic agreements that they movie studios and television networks have contractually agreed to.
3 Comments
by Dov S-S Simens on August 20, 2015
HOW TO CAST ACTORS (First How to Locate the Actor)
Actors are everywhere looking for gigs. And, you have the name of an actor in mind that you want to contact… Now how do you find him/her to make the offer.
Yes, you have the great Script and need to get it to him/her to either (A) Hire him/her or (B) Partner with him/her… Again, now how do you find him/her to discern if he/she is interested and then make him/her an offer….
49 Comments
by Dov S-S Simens on August 19, 2015
HOLLYWOOD AGENTS FOR WRITERS
Let's make it simple. You've done your writing. You are sure your script is great.
You registered & copyrighted it. You have CYA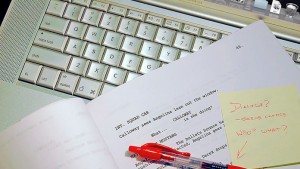 Your script is 110-140 pages and it's going to be a global studio spectacular… or your script is a 90-100 page wonderful low-budget independent script that has a great character arc and wonderful human sub-plots that come to an amazing resolution…
35 Comments
by Dov S-S Simens on August 18, 2015
LA TALENT AGENTS & SAG-AFTRA
Hit the ground running: If you are coming to LA and want to be a professional actor then hit-the-ground-running.
Have your headshot ready (it will change), get a list of acting teachers, find a place to live (Culver City, Burbank, Park La Brea, North Hollywood, etc.) where a 2-bedroom with a roommate  costs $2,200, line up your waiter gig (doing Uber or Lyft is better), and get your headshot to each and every one of the agents/agencies.
3 Comments
by Dov S-S Simens on August 17, 2015
RAISING $200,000,000… "The Simple Hollywood Formula"    
(A) $20,000 = (B) $200,000 = (C) $2,000,000 = (D) $20,000,000 = (E) $200,000,000 (Mega-Budget Feature")
Financing a Mega-Budget Studio Feature Film is not difficult when you understand the Formula.
Yes, Hollywood is run by formulas "Script Formula" (50 Scenes, A-Story & 3 B Stories), "Directing Formula" (Master Shot, 2 Medium Shots, 3 Closeups & a Cutaway), Posting Formula (Picture, Sound, Footsteps, ADR,
1 Comment
by Dov S-S Simens on August 14, 2015
MovieMaker Magazine
Once again "MovieMaker Magazine", an excellent periodical for Filmmakers, First-timers, Professionals, and Afficionados, from a hip Bi-Coastal (Oregon & Maine) publisher (moniker: Tim Rhys) who was/is one of the first to tout/praise Mr Sanders (I'm still a Bloomberg man) as our new leader has come up with a superb article, in their Film School issue, on the "11 FILMMAKING TIPS" (tongue-in-cheek humor) learned by a now pro.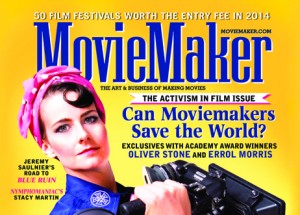 I have added my 9 (yeah I know…
No Comments
by Dov S-S Simens on August 13, 2015
7-STEPS to FILM SUCCESS
(1) Read this Blog
(2) Pick a Budget (see below) that is hopefully #1 to #6… Go #7 to #12 in budget selection and you are not realistic
(3) Get the Script… Keep-It-Simple-Stupid (90-pages, 1-Location, No Stunts, No VFX, No EXT-NIGHT)
(4) Hustle some money (see below, #1 to #6)
(5) Make the Film and make it with Talent
(6) Be a Good Person
(7) Trust God…
2 Comments